Moro, Kakou Francois
Moro, Kakou Francois
Country:
Congo, (Democratic Republic)
DONATE NOW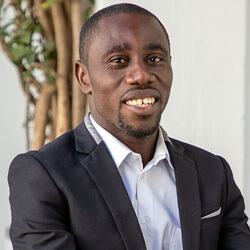 Serving At: Jerusalem UMC
Home Country: Cote d'Ivoire (Ivory Coast), Africa
WAYS TO REACH ME:
Kakou François Moro, a Global Mission Fellow with the United Methodist General Board of Global Ministries, was commissioned in August 2018. He is engaged in a two-year term of service at Jerusalem United Methodist Church in Lubumbashi, Democratic Republic of the Congo.
The Global Mission Fellows program takes young adults ages 20-30 out of their home environments and places them in new contexts for mission experience and service. The program has a strong emphasis on faith and justice. Global Mission Fellows become active parts of their new local communities. They connect the church in mission across cultural and geographical boundaries. They grow in personal and social holiness and become strong young leaders working to build just communities in a peaceful world.
Kakou is from Abidjan, Côte d'Ivoire, where he is a member of the Israel United Methodist Church. He holds a bachelor's degree in linguistics from the Félix Houphouët-Boigny University, Abidjan. He has taught in a private school and worked for the Boys' and Girls' Brigade of Côte d'Ivoire and the youth ministry office of his denomination.
Raised in a Christian home, Kakou was active in in both the United Methodist Youth Fellowship and the Boys' Brigade, a civic movement related to The United Methodist Church in West Africa. His decision to volunteer for the Global Mission Fellows program was strongly related to work he did in 2015 with a missionary, primarily translating documents. "My heart was burning for mission service each time I worked with him," Kakou says.
Email Me