Painter, Kristi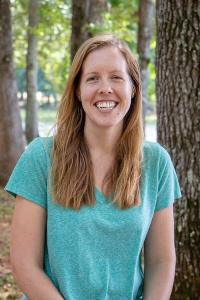 Serving At: Arch Street UMC
Home Country: United States of America, North America
WAYS TO REACH ME:
Kristi Painter is a Global Mission Fellow with the United Methodist General Board of Global Ministries, engaged in a two-year term of service with the Arch Street United Methodist Church in Philadelphia. She was commissioned in August 2018.
The Global Mission Fellows program takes young adults ages 20-30 out of their home environments and places them in new contexts for mission experience and service. The program has a strong emphasis on faith and justice. Global Mission Fellows become active parts of their new local communities. They connect the church in mission across cultural and geographical boundaries. They grow in personal and social holiness and become strong young leaders working to build just communities in a peaceful world.
In the United States, GMF service continues the historical US-2 mission program for young adults; it operates through affiliates, such as annual conferences, districts or other institutional expressions of the church.
Kristi is from Woodstock, Georgia, where she is a member of Hickory Flat United Methodist Church in the North Georgia Annual Conference. She holds a Bachelor of Science degree in industrial engineering from the Georgia Institute of Technology, Atlanta, and a Master of Divinity degree from the Candler School of Theology, Emory University, Atlanta. She has worked as an intern at Global Ministries, as a graduate assistant at Emory, and as a program assistant at the Wesley Foundation of Georgia Tech.
She was raised in United Methodist churches, active in them from a young age, baptized, and confirmed inn the sixth grade. She discerned a call to ministry while involved in the Wesley Foundation at Georgia Tech and attended seminary as part of the path toward ordination.
The Global Mission Fellows program appeals to her because it offers the opportunity, she says, to work "closely with a community while also gaining skills that are directly applicable" to her calling to ministry.
Email Me