Everett, Emily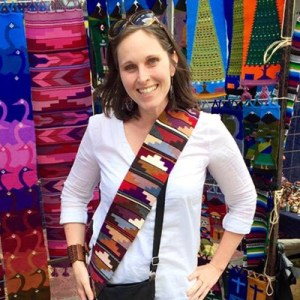 Serving At: Shade and Fresh Water Program in Brazil
Home Country: United States of America, North America
WAYS TO REACH ME:
The Rev. Emily A. Everett is a missionary with the General Board of Global Ministries. She serves with the Shade and Fresh Water Program in Brazil, an international partnership sponsored by the Methodist Church in Brazil. She was commissioned in October 2017.
Shade and Fresh Water is a national network of after-school programs for at-risk children and teenagers across Brazil. The main focus areas include character development and social responsibility. While projects are sustained locally and adapted to regional and ethnic differences in the vast country, basic resources are developed and shared nationally. Emily's role is to promote Shade and Fresh Water as an international mission partnership.
Emily is from Houston, Texas, and is an ordained deacon in the Texas Annual Conference. She holds a B.A. in music from Texas Woman's University, Denton, Texas, and M.Div. from the Perkins School of Theology, Southern Methodist University, Dallas. For three and a half years, she was the associate pastor of outreach and congregational care at First United Methodist Church, Pasadena, Texas. While in college she spent six weeks in the Philippines with InterVarsity Christian Fellowship and served in Brazil with a Global Ministries' (then) Global Justice Volunteers Program. To complete her seminary degree, she spent nine months in São Paulo, Brazil as a Perkins Student Intern.
A lifelong United Methodist, Emily grew up at St. Paul's United Methodist Church in Houston, she entertained thoughts of becoming a pastor at age 12. She was active in campus ministry during her college years and returned home to serve as assistant youth director at St. Paul's, her home church. Seminary came next, and ordination as deacon in 2016.
"Much of my faith journey is identical to my call to mission because I see them as one and the same—with me discovering who God has uniquely created me to be."
Emily credits the Global Mission Volunteer Program experience—two months in Brazil—as a turning point in being able to "articulate something of what I felt God had created and called me to do with my life. I was still young and didn't know exactly what that meant, but I knew that my heart would forever be tied in some way shape or form to Brazil and that I found life and purpose and joy in serving God cross culturally."
Email Me