Scheuerman, Carmen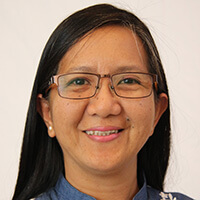 Serving At: Davuilevu Theological College in Nausori, Fiji
Home Country: Philippines, Asia and Pacific
WAYS TO REACH ME:
The Rev. Dr. Carmen C. Manalac-Scheuerman is a missionary with General Board of Global Ministries, serving as a professor of practical theology at Davuilevu Theological College in Nausori, Fiji. She was commissioned in October 2017.
Davuilevu Theological College is the primary institution for the training of clergy for the Methodist Church of Fiji, a long-time mission partner of Global Ministries. Two-thirds of the people of the South Pacific island nation of Fiji are Methodists. Carmen teaches, advises students, and engages in activities that enhance the school's relations with the community at large.
Carmen is from the Philippines where she is an ordained elder of the Pampango Philippines Annual Conference. She served as the Conference's Chairperson with the Ministry with the Indigenous People's Committee. She taught for two years at the Union Theological Seminary, located at Cavite, and was also convener of the Center for Spiritual Foundation. Earlier, Carmen served as school director at Immanuel Bible School for Indigenous People in Tarlac from 2005-2009, and was administrative pastor of Christ the King United Methodist Church in Candaba, Pampango in 2004.
Carmen's academic career includes a B.A. in Christian education from Harris Memorial College, Rizal, M. Div. from Union Theological Seminary-Philippines, and Ph.D. in Christian Education and Congregational Life from Garrett-Evangelical Theological Seminary, Evanston, Illinois.
"I have come to own my faith in Christ through the intentional faith formation I received in a Methodist community where I was born and raised…I enjoyed growing up in our community where we experience daily and weekly intentional religious instruction; age-group Bible studies, family prayer meetings, mid-week services, choir practice, weekend outreach and evangelism, Sunday worship, Sunday school and much more…"
At age 17, Carmen dedicated her life to full-time ministry, moving from deaconess to ordained elder and professor. She understands her call to mission as evolving from engagement in her Methodist church and community. "I found myself participating in feeding, teaching and healing ministries and, more importantly, advocating for reclaiming indigenous identity and culture. Mission is participating in what God is doing in the world and I am honored to take part wherever God brings me."
She is married to Jeffrey Cecil Scheuerman, a teacher by profession and VIM-Volunteer in Mission from Pacific Northwest Conference. The couple is blessed with one child, RhythmLee, born in Philippines. Her husband's parents, Lee N. and E. Eileen Scheuerman, were Global Ministries missionaries in Pakistan from 1949 to 1971
Email Me