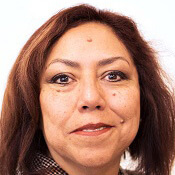 Serving At: Evangelical National Primitive Methodist Church of Guatemala
Home Country: Mexico, Latin America and the Caribbean
WAYS TO REACH ME:
Maria de Lourdes Ramirez Meneses is a missionary with the United Methodist General Board of Global Ministries serving with the Evangelical Methodist Church of Guatemala. She was commissioned in the Spring of 2017.
The Methodist community in Guatemala is small and has a complex background resulting from diverse mission outreach from the United States. The Evangelical Methodist Church is attempting to bring together several streams into a unified whole.
Lourdes is from Puebla Mexico where she is a member of the Shalom Methodist Church. She holds a range of degrees and certificates in business administration and finance, and also has done postgraduate work in agriculture. She has worked in the financial and retail industries.
While not born into a Christian family, Lourdes learned to trust in God when she was rescued from a difficult situation. "Through the years, I learned that it is not my decision but the Lord's decision that I should look for. I would like to share with others how Jesus shapes our lives so we can be his instruments to show his glory." She was introduced to mission opportunities when she served as a translator for a medical mission team in Mexico from Tennessee. As she become increasingly involved with the team, she realized that she too could serve God and others in a missionary role.