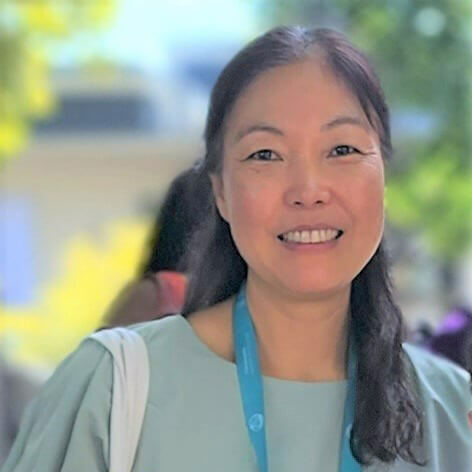 Serving At: World Council of Churches
Home Country: United States of America, North America
WAYS TO REACH ME:
The Rev. Kyeong-Ah Woo is a missionary with the United Methodist General Board of Global Ministries serving as a Mission and Evangelism Coordinator of the World Council of Churches. She is based in Geneva,Switzerland.
The CWME is one of the most broadly inclusive ecumenical organizations, comprised not only of representatives of the Protestant and Eastern Orthodox member of the World Council of Churches but also of persons from the Roman Catholic Church and Pentecostal and Evangelical traditions. Global Ministries is an active participation in the commission. The CWME plans a major World Mission Conference in 2018, and the organization of that event is a responsibility of Kyeong-Ah.
Kyeong-Ah is an ordained elder of the Northern Illinois Annual Conference. She was born and spent her childhood and youth years in South Korea where she became the first Christian at a young age in her family. She came to the United States in the mid-1990s and served as a US-2 missionary.
She received her bachelor's degree from Lambuth University, Jackson, Tennessee, and the Master of Divinity degree from Garett Evangelical Theological Seminary, Evanston, Illinois. Joining the Northern Illinois Conference, she served as the solo pastor of East Jordan UMC, as an associate pastor in Glen Ellyn and as the solo pastor of the Burlington United Methodist Church, Illinois, and of First United Methodist Church, Kirkland, IL.
Kyeong-Ah considers herself blessed that both her junior and senior high schools were Christian mission institutions. She was baptized at age 16 with assurance that she would live a life of faith and service. "I always know for sure that God is calling me to serve God's people in whatever I do," she says. "And wherever I am following the way of Jesus whose mission was to proclaim the good news to the poor and marginalized, to liberate the oppressed, the open eyes that are blind in whatever form, and to announce the coming of God's Kingdom (Luke 4:16) in order for all to have abundant life (John 10:10).
Kyeong-Ah is married to the Rev. Dr. Jin Yang Kim. The couple has a young child, Micah.
Email Me