Ramirez-Jimenez, Lilia Maria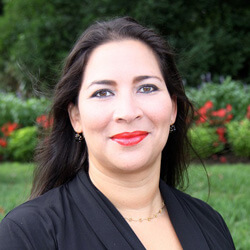 Serving At: Annual Conferences in U.S
Home Country: United States of America, North America
WAYS TO REACH ME:
This missionary has ended service. The Advance number will remain active until December 31, 2020.
The Rev. Lilia Maria Ramirez-Jimenez is a missionary with the General Board of Global Ministries of The United Methodist Church, assigned through the National Plan for Hispanic/Latino Ministries to work with annual conferences and districts in the United States in planning and resourcing new and innovative ministries among the nation's Hispanic/Latino population. She began her service in February 2017.
Related to the National Plan operation, her work in part addresses the changing nature of the U.S. Hispanic/Latino community. A generation ago that population was primarily made up of Spanish-speaking immigrants. Today, it is highly diverse, multi-lingual or only English-speaking. The changes raise new challenges for local and regional ministry. Today, 51.9 million Latinos in the United States trace their heritage to more than 20 Spanish-speaking counties. Of those, 64.6 percent are of Mexican origin.
Lilia is originally from and a citizen of Colombia but has also lived in Costa Rica and Venezuela in Latin America and in Illinois, New Jersey, and Tennessee in the United States. She studied sociology at the Universidad Central de Venezuela in Caracas and earned a Master of Divinity degree at McCormick Theological Seminary in Chicago and also received certification from the Accredited Clinical Pastoral Education Center in Chicago. She is an ordained Presbyterian elder, affiliated with the Middle Tennessee Presbytery of the Presbyterian Church USA.
After migrating to the United States and completing her study in Chicago, Lilia and her husband, the Rev. Gustavo Vasquez, lived in New Jersey where she pastored Hispanic Presbyterian congregations and engaged in Hispanic ministry projects from 2005 to 2014. In 2015, Gustavo took a position with United Methodist Communications in Nashville and Lilia became coordinator of the Office of Specialized Theological Education at the United Methodist General Board of Higher Education and Ministry.
Lilia believes that God has called her to work as a missionary focused on Hispanic/Latino ministries: "I consider that my experience with Latino communities in Latin America and the United States can contribute to the development and strengthening of Hispanic/Latino ministries in the United States."
Lilia and Gustavo have two young daughters both born in Hoboken, New Jersey: Lilia Elena, born in 2007, and Savi Kapui, born in 2009.