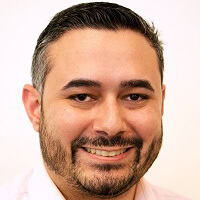 Serving At: Center for Theological Education
Home Country: Puerto Rico, Latin America and the Caribbean
WAYS TO REACH ME:
Luis Daniel Roman Hernandez is a missionary with the United Methodist Board of Global Ministries serving as a coordinator of theological education and leadership development of the Center for Theological Education and the Pastorate of the Methodist Church of Puerto Rico. He is based in San Juan and was commissioned in the Spring of 2017.
The center is aimed at achieving the objectives of an "Initiative for Church Transformation" within Puerto Rico's Methodist community. Leadership for congregational development is a key component of the initiative.
Luis is a native of Puerto Rico, where he is a licensed local pastor of the Jesus Restaurado Methodist Church in Manati and was earlier an associate local pastor at the Torrimar Methodist Church.
He holds a bachelor's degree in social sciences from the University of Puerto and a master's in business administration from the University of Phoenix. He has worked as a marketing associate and in 2010-2013 he was a member of AmeriCorps VISTA.
"I came from a Christian family," Luis states. "My grandfather is a retired ordained minister of the Methodist Church. I gave my life to God when I was 7 years old, and during my youth until now I have been working for the mission of God in different areas. I could say that the hand of God has sustained me and guided me.
"I received the call of God when I participated in the Chrysalis experience (Walk to Emmaus). In that moment, I felt that God called me to do mission, to help others develop their skills and collaborate in their local churches. I felt that was my call and that is what I am going to do."
Luis is married to Suhail Rosario.