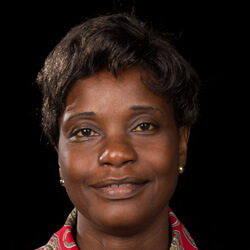 Serving At: Cambine Hospital/Clinic
Home Country: DRCongo, Africa
WAYS TO REACH ME:
Florence Kaying is a missionary with the General Board of Global Ministries of The United Methodist Church serving as a nurse practitioner in maternity and child health at the Cambine Hospital/Clinic in the Mozambique South Annual Conference. She was commissioned in May 2016. Her husband, John Nday, is also a missionary.
Cambine Hospital/Clinic is part of a United Methodist mission station that includes two primary and three secondary schools and a theological seminary. The health facility serves a rural area and is under the medical supervision of the Chicuque Rural Hospital. Cambine is the site of one of Global Ministries' Global Health pilot projects in maternal and child health.
Florence is from Kamina in the Democratic Republic of the Congo (DRC) and is a member of the Paroisse Ville United Methodist Church there in the North Katanga Annual Conference. Her nursing degree is from the Institut superieur des infirmieres in Lubumbashi, DRC. She has worked in a number of clinics in her home county.
She grew up in a devoted United Methodist family that lovingly cared for her during serious illness in her early years. Her recovery as a teenager she attributes to God's healing power, and at that time she made a decision to enter nursing studies. Her own experience as a patient, she says, gives her special empathy with those she serves as a nurse today.
"As a nurse," Florence says, "I can serve everywhere there is need. I have the skills to help in mission and think I will learn from others as they also learn from me."
Florence and John have three children, James, Yan, and John.