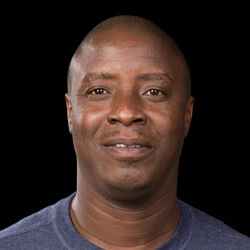 Serving At: Health Operation Manager in the Burundi Annual Conference
Home Country: Cote d'Ivoire (Ivory Coast), Africa
WAYS TO REACH ME:
Patrick Abro is a missionary with the General Board of Global Ministries of The United Methodist Church serving as Health Operation Manager in the Burundi Annual Conference. He was commissioned in May 2016.
Patrick is from Côte d'Ivoire, where he is a member of the Jehova Jire United Methodist Church in Abidjan in the Côte d'Ivoire Annual Conference. He holds a basic degree in literature from Félix Houphouët-Boigny University in Abidjan, a degree in communications and human resources from the College of Abidjan, and master's degree in social science from the National High Institute of Social Science. He has additional training in project management and monitoring and evaluation. He has worked as a coordinator in the evaluation and monitoring of community projects in the annual conference's program to control HIV/AIDS and other pandemic diseases.
Born into a Christian home, Patrick was extremely active in the United Methodist Youth Fellowship on local, district, and annual conference levels. He was conference youth president and has also served the general church. He was a delegate to the 2012 General Conference in Tampa, Florida, and for the 2013-2016 quadrennium represented the West Africa Central Conference on the Division of Ministries for Young People (DMYP) of Discipleship Ministries (General Board of Discipleship). He also represented DMYP on the United Methodist Global AIDS Fund during same quadrennium. He is a member of the United Methodist Health Board of Côte d'Ivoire.
His call to mission emerges from his faith journey. "God calls me at a young age," Patrick says. "God called me in many ways during my journey, and I learned I can serve God in many ways. God opened my heart, my mind, my spirit, and my strength; God touched me and led me into his mission."