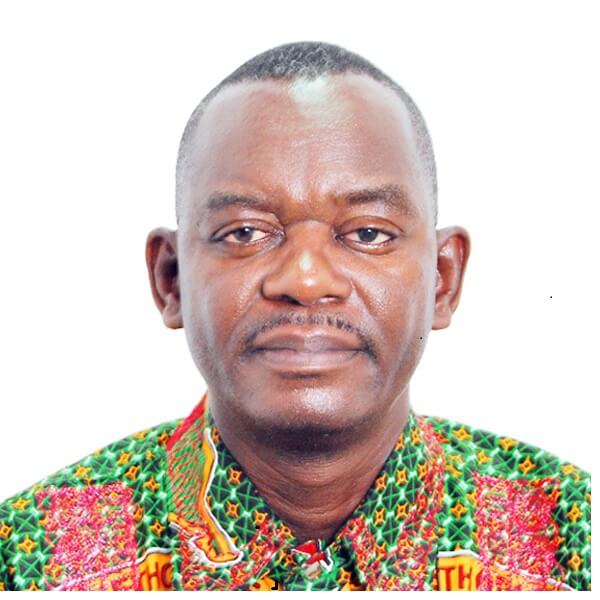 Serving At: Cambine Mission in the South Mozambique Annual Conference
Home Country: DRCongo, Africa
WAYS TO REACH ME:
John Nday is a missionary with the General Board of Global Ministries of The United Methodist Church serving as agricultural coordinator at Cambine Mission in the South Mozambique Annual Conference. His wife, Florence Kaying, is also a missionary there. He was commissioned in May 2016.
Cambine Mission is sometimes described as a "mixture of awe and ashes." Ravaged by civil war, the facility is rising from the ashes and now has more than 2,000 students enrolled in its several schools. It also has a hospital/clinic, a theological seminary, and an orphanage. The Cambine property was the gift of a tribal chief to Methodists looking for a mission site in 1890. The chief made just one stipulation in the form of a question: "Do you come in peace?"
The mission has land used for crops and animal husbandry to feed the students and orphans. Crops include pineapples, cassava, maize, and many vegetables; animals raised include pigs, chickens, ducks, goats, rabbits and cows. John oversees this work.
John is from Kamina in the Democratic Republic of the Congo (DRC), where he is a member of the Paroisse Ville United Methodist Church. He holds a Bachelor of Science degree in agriculture and natural resources from Africa University, the United Methodist-related institution in Zimbabwe. He also holds a certificate in sustainable agriculture from the Asian Rural Institute, a Global Ministries mission partner in Japan.
He has worked professionally in food security programs, including those of the United Methodist Committee on Relief (UMCOR). From July 2011 to July 2012 he managed the mosquito nets distribution of Imagine No Malaria in Kamina City and its surroundings. The nets project was a joint effort of UMCOR, the North Katanga Annual Conference, the Kamina (public) Health Zone, and the Global Fund.
John was born into the household of a poor pastor and was separated from his family from age 12, because there was no school in the place to which his father was appointed. He remained in Kalemie. Lonely and insecure, he found comfort in the love of God and his church and determined to give value tohis life.
After secondary school, he made his way to Africa University in Mutare, Zimbabwe with little prospect of being able to afford to enroll. He eventually qualified for a scholarship and also received assistance from a family in the United States. His good fortune at Africa University strengthened him in faith and the realization "that God exists and acts through people."
Back in North Katanga, he found work as manager of a church-related farm that provided food to an orphanage. He also engaged in water and sanitation projects. In this work he gained experience that equipped him for his placement at Cambine.
John understands his mission call as that of improving "the living conditions of the people who are suffering." Loving and supporting such persons he sees as the "true worship" of God. He wants to promote more love in the world.
John and Florence have three children, James, Yan, and John.