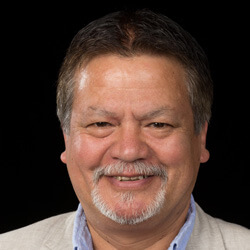 Serving At: Dr. Gonzalo Báez Camargo Methodist Seminary
Home Country: Peru
WAYS TO REACH ME:
The Rev. Dr. Hector N. Laporta is a missionary with the General Board of Global Ministries of The United Methodist Church serving on the faculty of the Dr. Gonzalo Báez Camargo Methodist Seminary in Mexico City, Mexico. He was commissioned in May 2016.
The seminary named for Dr. Gonzalo Báez Camargo, a prominent scholar-theologian, has served the Methodist community and other Protestant denominations in Mexico for almost 100 years. It trains clergy from both rural and urban areas and encourages students to return to their home areas for ministry. The school emphasizes the spiritual and social holiness in the Christian experience.
Hector is a citizen of Peru born in Uruguay, where his father was a pastor for a time; he is an ordained elder of the Methodist Church of Peru, but served pastorates in the New York Annual Conference for 15 years before entering missionary service. He holds a master's degree in anthropology from the Latin American School of Social Sciences (Ecuador), an inter-governmental organization for Latin America and the Caribbean dedicated to researching, teaching, and spreading the social sciences. He earned a Ph.D. degree in 2013 from the Union Theological Seminary in New York City.
His New York Conference pastoral appointments included Bethelship Norwegian United Methodist Church and Fourth Avenue United Methodist Church, both in Brooklyn, and the Church in the Village (United Methodist) in Manhattan. Earlier, he spent 15 years in ministry in Peru. He also took part in ministry while in school in Ecuador. Much of his work has been with the poor and marginalized.
He sees his role at the seminary in Mexico partly as that of sharing his experience "with young generations as a manner to return the opportunities I had to serve God and the poor."
Hector is married to Milagros Ricourt.
Email Me