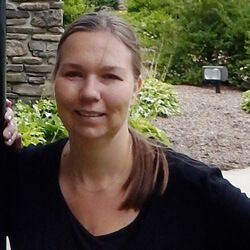 Serving At: Baltic Methodist Theological Seminary
Home Country: Estonia, Europe and Eurasia
WAYS TO REACH ME:
Kulli Toniste is a missionary with the General Board of Global Ministries of The United Methodist Church serving as assistant professor of biblical studies and theology at the Baltic Methodist Theological Seminary in Tallinn, Estonia.
The Baltic seminary needs qualified professors to meet European educational standards. It serves students from eight countries and offers instruction in Estonian, Russian, and English. Estonia is part of the Estonia Provisional Annual Conference of The United Methodist Church that includes districts in Latvia and Lithuania. The church in Estonia was never closed during the years the country was dominated by the Soviet Union, but it was closely controlled under communism. Kulli was born in Estonia and taught on both the college and the seminary level while living in the United States. Her husband, the Rev. Douglas Childress, is also a missionary in Estonia.
Kulli became a Christian in Estonia during the period of the Soviet Union's collapse and was for a time the only Christian in her family. "In 1988, we were able to celebrate Christmas again openly. I was 10 years old when I heard the song 'Silent Night' for the first time." She had found a Bible in a closet, likely belonging to a grandparent, and she found fellow Christians at the Estonian Christian Pentecostal Church. Her family was initially suspicious, especially when, after high school, she attended a Bible college rather than a "proper" university.
From the Bible college, she went to Baltic Methodist Theological Seminary, where she earned the equivalent of a Bachelor of Arts degree and worked with mission volunteer groups within Estonia and from outside. She next enrolled in Asbury Theological Seminary, Wilmore, Kentucky, where she received a Master of Arts degree in biblical studies, and where she met her husband. Kulli earned a Doctor of Philosophy (Ph.D.) degree in biblical theology through London School of Theology in the United Kingdom. In the US, she taught at Houghton College, Houghton, New York, and Northeastern Seminary at Roberts Wesleyan College, Rochester, New York.
Kulli's first contact with mission was in college in relation to volunteer mission teams and she had a real interest, but the course of her life took another route at that point. After 15 years in the US, she was initially unsure about returning to Estonia as a missionary, but the doubt and any obstacles cleared away. "I can see now that the experiences that I gathered in the USA are valuable ground work for serving in Estonia. Nothing is wasted. I believe that God has been at work preparing us for this mission and has called us to Estonia."
She sees God's hand in developments and hopes that God will use her to help educate future pastors and laity in Estonia. She wants to see theological education in Estonia flourishing and answering the needs of today's church. Above all, she wants to follow Christ and put her credentials and talents to work for the benefit of the Estonian Christians that once nourished her faith.
Kulli and Douglas have three children, Karl, Kristofer, and Kalev.
Email Me