Ilunga Mpanga Mufuk, Francine
Country:
Côte d'Ivoire (Ivory Coast)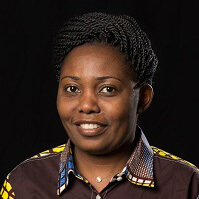 Serving At: Côte d'Ivoire Annual Conference
Home Country: DRCongo, Africa
WAYS TO REACH ME:
Francine Ilunga Mpanga Mufuk is a missionary of the General Board of Global Ministries of The United Methodist Church serving as coordinator for Young Girls Ministry in the Côte d'Ivoire Annual Conference in West Africa. She was commissioned in June 2015. Her husband, Jean Claude Masuka Maleka, is also a missionary.
Many young girls, especially in remote area, need the urgent attention of the church with regard to general education, sexual and reproductive health, and participation in the life of the church. Francine oversees the conference's work with young girls and women in discipleship, counseling, mentoring, and relationship building.
The United Methodist conference in Côte d'Ivoire is one of the fastest growing in Africa. Continuing to emerge from years of civil conflict, it struggles with economic challenges and with limited educational opportunities, notably for girls. Methodism in the country is rooted in British missionary work. It gained autonomy in 1985 and in the early 2000s became part of The United Methodist Church. It has 17 districts and a constituency of some 1 million people.
Francine is originally from the Democratic Republic of Congo (DRC), where she is a lay member of the Jerusalem United Methodist Church, Lubumbashi City, in the Southern Congo Annual Conference. She holds a Bachelor of Arts degree in humanities and social sciences from Africa University, the United Methodist-related school in Zimbabwe. She earlier earned a diploma in technical design and sewing in the Congo and a diploma from the Children's Ministries Institute of the Child Evangelism Fellowship in Kenya. She studied community development at Mulolwa Catholic Institute and peace education at Maria Malkia Catholic Institute, both in the DRC.
"In all my education, I was inspired and empowered to impact our African communities through effective ministries," she says.
Professionally, she has worked for Action Aid to Children and as a trainer in both the Scout movement and in child evangelism. She is fluent in French, English, Kiswahili and Lingala (a Bantu language).
Growing up in The United Methodist Church, Francine was influenced toward a mission vocation by the youth fellowship and participation in church-related Scout work. She was called by God as a Sunday school teacher, and became "passionate about transforming lives of children and young girls" who are often victims, especially in times of conflict such as that experienced in recent times in the DRC. Her husband, Jean Claude Masuka Maleka, was also engaged in children's ministry.
"I have experienced in my life the power of the gospel to change lives," she says. "I believe God called me to do even the smallest action in his kingdom that can demonstrate the grace and mercy of God. The gospel is for all people. I am committed to go with it to the rest of the world to share God's redeeming love."
Francine and Jean Claude have two children, Berthe and Ephraim.