Tapia, Elizabeth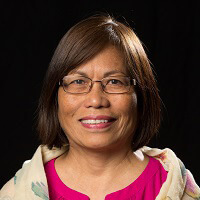 Serving At: Baguio Episcopal Area
Home Country: Philippines, Asia and Pacific
WAYS TO REACH ME:
This missionary has completed service. The Advance number will remain active until December 31, 2020.
The Rev. Dr. Elizabeth S. Tapia is a missionary with the General Board of Global Ministries of The United Methodist Church and is serving Theologian in Residence and Curriculum Consultant. She formerly served as professor of theology, Bible, and mission at John Wesley College, Tuguegarao City, Cagayan, Philippines. She was commissioned in June 2015.
John Wesley College is a primary training center for theological and secular education in the Baguio Episcopal Area of The United Methodist Church in the Philippines. The episcopal area is composed of eight annual conferences in the northern region of Luzon Island. It has 114,580 professing and baptized members in 639 organized congregations and 38 preaching places. There are 318 ordained elders and 380 local pastors, as of early 2015. Rev. Tapia's primary task is to teach and learn in a multicultural setting; to assist in educating future generations of church leaders, pastors, and theologians.
Dr. Tapia is a native of the Philippines but has lived recently in the United States, serving from 2011 to 2015 as director of mission theology for Global Ministries. She was earlier on the staff of Drew University Theological School, Madison, New Jersey. From 2002 to 2005 she held the United Methodist chair of missiology at the Bossey Ecumenical Institute of the World Council of Churches in Switzerland. She taught for many years at Union Theological Seminary, Cavite, Philippines, and at Harris Memorial College, the United Methodist deaconess training center in Manila and Asia.
Elizabeth came from a Methodist family in Bulakan, Bulacan. Her father, David, was a humble fisherman turned lay evangelist. Her mother, Lydia, was a home manager, who saw to it that the 10 children would survive poverty and obtain education. Through scholarships, Elizabeth earned a Bachelor of Arts degree in Christian education from Harris Memorial College, Manila. Her Master of Divinity degree is from Pacific School of Religion, Berkeley, California. She earned her Doctor of Philosophy degree in theology and education from the Claremont Graduate University, Claremont, California, where she held a World Communion Scholarship.
"My call to mission started when I said 'yes' to Christian life and service as a youth attending the Christmas Institute for young people in my town of Bulakan," she recalls. "Several pastors and deaconesses, and missionaries at Harris College inspired me to be a disciple of Jesus, to engage in teaching Sunday school, visiting the sick, teaching children, working with youth, and caring for the 'least of these sisters and brothers.' Growing up poor and spiritual—my parents nurtured me in faith, love, and perseverance—I was called to do mission in my local context." She would go on to take part in conference, area, national, and international mission, putting emphasis on contextual theology, Asian women's theologies, mission, and social justice advocacy.
Elizabeth, an elder in the Bulacan Philippines Annual Conference (Manila Episcopal Area), values her service in both the Philippines and the US, and thanks God for the mission partnership she shared with her American husband, the Rev. Alan D. Cogswell. "Alan has been supportive of my ministry in and outside the Philippines." She considers herself an "immigrant theologian" back to her home country, open to the Holy Spirit's "surprising activity" in her life. Elizabeth says: "Life is short. God's grace abounds and joy is contagious. Christmas means 'Emmanuel'—God is with us, no matter where we are or what happens."
Email Me