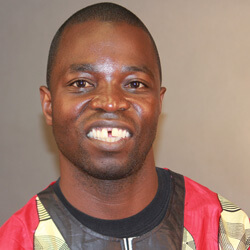 Serving At: MCCA Belize Honduras District, The Methodist Church in the Caribbean and the Americas
Home Country: Zambia, Africa
WAYS TO REACH ME:
The Rev. Charles I. Mulemena is a missionary with the General Board of Global Ministries of The United Methodist Church, serving as a Pastor and Trainer of the MCCA Belize Honduras District, The Methodist Church in the Caribbean and the Americas, based in Belize. He was commissioned in October 2015.
Charles is from Kitwe, Zambia and is an elder of the Zambia Annual Conference. He was pastor of Grace United Methodist Church from 2007 to 2013, and also director of the New Life Center, a United Methodist facility beginning in 2009. In 2011 through 2013, he was chair of the Kitwe District of the Council of Churches in Zambia. Charles received a diploma in theology and mission in 2007 from the Trans-Africa Theological Seminary located in Zambia, and also holds certificates in church administration and psychological counseling. He has served as youth coordinator for his annual conference and as a prison ministry coordinator.
"I have learned that the Christian walk is not in any way easy, but a very exciting one as I daily learn to trust and obey the Lord's direction," he says. After giving his life to Jesus at the age of 12, Charles joined a volunteer evangelism team, recalling: "It was such a fulfilling and exciting experience that from that day evangelistic ministry—sharing God's love with different kinds of people—has been my passion all my life. This has helped me to grow in my Christian faith so that I can say that I would not be where I am today without such encounters."
Of his call to mission service, he says: "I have been involved in both national and international mission, which has given me such an exciting experience in cross-cultural relations. Therefore, I strongly feel it is time for me to enter full-time missionary service."
Charles is married to Barbra Chola Mulemena, and the couple has two young children: David and Lubanji born in 2014.