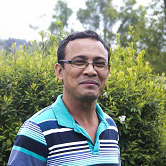 Serving At: Overseas Filipino Workers (OFW)
Home Country: Philippines, Asia and Pacific
WAYS TO REACH ME:
The Rev. Richard B. Navarro is a missionary with the General Board of Global Ministries of The United Methodist Church serving as minister for congregational development and pastoral care of the Overseas Filipino Workers (OFW) ministry in Taipei. He was commissioned in late 2014.
The OFW ministry is linked to the Methodist Church and is conducted in collaboration with the Davao Episcopal Area in the Philippines. Some 3,000 Filipinos leave their country every day seeking livelihoods abroad. The OFW ministry in Taipei was started by volunteers and enhanced by pastors sent by Davao with space and stipend assistance from the Methodist Church in Southeast Asia. Global Ministries was invited to become a partner in the outreach.
The plan of ministry includes not only worship and social services but follow through as workers return to the Philippines, providing spiritual care and pastoral counseling and linking them to congregations at home.
Richard is an elder of the East Mindanao Philippines Annual Conference and over a 16-year period served a series of small and large pastoral appointments, primarily in the Bulacan Annual Conference. His churches included Bulacan Central, Good Shepherd, and 4th Bulacan United Methodist Churches. He and his wife Alma Navarro, also a missionary, shared these ministries. Richard holds a Bachelor of Arts degree in psychology from Philippine Christian University in Manila and a Master of Divinity degree from Union Theological Seminary in Dasmarinas City in Cavite Province.
A strong sense of covenant with God through Jesus Christ sustains him in good times and bad. "I found real joy inside of me," he says, "when God brought me and my family to be missionaries in Taiwan, despite challenges I face in the ministry. I found something valuable that cannot be exchanged for the most expensive treasures in the world. My faith has totally increased and is getting stronger….My faith tells me that Jesus Christ is enough for me."
The ministry is called Ang TANANAN ng NAGDADAMAYANG PINOY SA TAIWAN, ("A Home for Filipinos Who Care for One Another in Taiwan.") Richard believes that in time the ministry will speed to all part of Southeast Asia where Filipino migrants are located.
Richard and Alma have two children, Charis and Chadash.