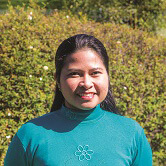 Serving At: Overseas Filipino Workers (OFW)
Home Country: Philippines, Asia and Pacific
WAYS TO REACH ME:
The Rev. Alma Jumuad-Navarro is a missionary with the General Board of Global Ministries of The United Methodist Church serving as minister for administration and Christian education of the Overseas Filipino Workers (OFW) ministry in Taipei. She was commissioned in late 2014.
The OFW ministry is linked to the Methodist Church in the Republic of China and is conducted in collaboration with the Davao Episcopal Area in the Philippines. There are an estimated 100,000 Filipinos in Taiwan at any given time, a majority of whom are temporary migrant workers. Some 3,000 Filipinos leave their country every day seeking livelihoods abroad. The OFW ministry in Taipei was started by volunteers and enhanced by pastors sent by Davao with space and stipend assistance from the Methodist Church. Global Ministries was invited to become a partner in the outreach.
The plan of ministry includes not only worship and social services but follow through as workers return to the Philippines, providing spiritual care and pastoral counseling and linking them to congregations at home.
Alma and her husband, the Rev. Richard B. Navarro, also a missionary, are from the Philippines. She is an elder of the East Mindanao Philippines Annual Conference. She has served as resident minister of the Jesus Lover of Souls United Methodist Church, minister of Christian education at Good Shepherd United Methodist Church, and youth minister of 4th Bulacan United Methodist Church, all in the Bulacan Philippines Annual Conference.
She received a Bachelor of Science degree in medical technology from Southwestern University, Cebu City, and a Master of Divinity degree from Union Theological Seminary in Dasmariñas City, Province of Cavite, south of Manila.
Alma has special affinity with overseas workers since she herself was once a factory worker there, an experience cut short of her contract by a vehicle accident that both sent her back home and caused her to reevaluate her life's plan. She had been born into the church, had given her life to Christ at age 12, and had been a leader in a congregation. Back home, she entered seminary and served in several ministries in the Bulacan Conference.
She was strongly influenced in the direction of missionary work by the passage in John 21 where Jesus tells his fisherfolk disciples to cast their nets on the "right side of the ship." For her, what would be the right side? She would find out by responding in time to an invitation to return with her husband and family to minister among overseas workers.
Alma found the answer to a question that had come to her when she was first in Taiwan. The question was, "What else Lord?" She explains: "In God's perfect time, He brought me back to Taiwan to reach out to Filipino migrant workers. Somehow I do understand the life of being an OFW. My stay in Taiwan as a factory worker was the chance for me to know the needs and struggles of OFWs. And so, I and my husband are dealing with these things among the migrant workers with whom we minister."
Alma and Richard have two children, Charis and Chadash.