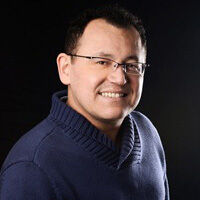 Serving At: Coordinator of Curriculum and Small Group Leadership Development
Home Country: Costa Rica, Latin America and the Caribbean
WAYS TO REACH ME:
Dr. Osias Alberto Segura-Guzmán is a missionary with the General Board of Global Ministries of The United Methodist Church, serving as coordinator of curriculum and small-group leadership development for new churches in Latin America and the Caribbean. He was commissioned in October 2013.
Osias served with Global Ministries from 2013-2016 as president and professor of missiology at the Theological Seminary of the Evangelical Dominican Church in the Dominican Republic. After facilitating a transition to a local leader to serve as president of the seminary, he transferred to Central America. In this new role, Osias assists pastors and lay leaders in the development of a network of accountable leaders for missional small groups, facilitates training, helps to create small-group teaching resources, and strategizes with local leaders on ways to promote church growth.
Osias is a native of Costa Rica and also holds citizenship in the United States. He is a member of the Covenant United Methodist Church in Spokane, Washington in the Pacific Northwest Annual Conference.
"I have wanted to serve in mission since I was an early teenager," he reports. "I served for many years with youth ministries in Costa Rica and before getting involved in theology, I studied sociology. I remember people at church asking me what I was doing attending church when I was studying sociology, and at the university being asked what I was doing there if I was a Christian. I believed, and deeply still do, that a Christian with a social conscience must have a prophetic voice to the church and the world."
Osias holds Master of Divinity, Master of Theology, and Doctor of Missiology degrees from Asbury Theological Seminary, Wilmore, Kentucky. He served as an affiliate professor at Fuller Theological Seminary in California from 2008 to 2013, was a professor of mission in Costa Rica for four years, and from 2004 to 2008 was associate pastor of College Place Presbyterian Church in College Place, Washington.
Christian social action, contemplative prayer, and community service are all deeply important to Osias. He stands with Henri Nouwen in believing that "it is important for the mission servant to balance the inner life and outer life of service."
Osias is married to Desiree Segura-April, who is also a Global Ministries missionary and he is the father of a young son, Nikolas.
Email Me