Ramirez, Carlos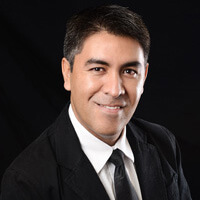 Serving At: Oklahoma Annual Conference
Home Country: Mexico, Latin America and the Caribbean
WAYS TO REACH ME:
The Rev. Modesto Carlos Ramirez Romero is a missionary with the General Board of Global Ministries of The United Methodist Church, serving as coordinator of Hispanic/Latino Ministries in the Oklahoma Annual Conference. The assignment is made through the denomination's National Plan for Hispanic/Latino Ministries. He was commissioned in October 2012.
Some nine percent of the population of Oklahoma is Hispanic/Latino. Carlos's work focuses on strengthening existing Hispanic/Latino congregations and developing new ones. He works out of the conference office in Oklahoma City to implement a strategic plan for Hispanic/Latino ministries adopted in 2011.
Carlos was born in Puebla, Mexico, and retains Mexican citizenship. He was born into a mixed Roman Catholic-Methodist family—his mother's family was Methodist going back four generations. He was baptized Methodist but raised in the Roman Catholic faith under the guidance of his paternal grandmother. He says he retains great respect for aspects of the Catholic Church, but in his teen years experienced a "big disconnect" from some Catholic theology and practice. He found that he felt more at home in Methodism and, also, room there to appreciate both rich traditions.
While he was young, a priest proposed the idea of a religious vocation to Carlos. The possibility did not seem "crazy or scary," but his professional turn was toward a secular career. He attended law school for two years and also worked for a law firm. "But during those years something was missing," he says. "I remember that time as one of sadness and personal chaos.…One day in a very casual conversation, some friends asked me if I had ever considered being a pastor. Again, the question came to me with no fear."
Carlos explored the possibilities, and enrolled in the Seminario Metodista"Dr. Gonzalo Báez Camargo" in Mexico City, earning a license in theology in 2004. While in this program, he met his wife, the Rev. Wendi E. Neal, then a seminarian in Texas, who visited Seminario Metodista. Carlos and Wendi are both elders in the Oklahoma Annual Conference.
After settling in Oklahoma, Carlos was pastor of the Heavener Hispanic Fellowship/Howe United Methodist Church from January 2005 to June 2007. He then became associate pastor of the Elk City United Methodist Church, a post he held until becoming part of the conference staff in June 2012. He enrolled in Phillips Theological Seminary, Tulsa, in 2008, and in 2012 earned a Master's in Theological Studies degree in New Testament. He was ordained an elder in 2009.
Carlos says that being an immigrant in the United States has helped him to deepen his approach to New Testament study: "Serving an immigrant congregation, as well as an English-speaking church, and taking part in the conference ethnic group gave a new dimension to how the words of Jesus, Paul, and the Apostles empower and dignify those on the margins, the outsider, the other. Also, the scripture gives us the tools and the strength to resist discrimination, labels, and oppression of many shapes."
Carlos and Wendi have two children, Miguel Stephen Ramirez-Neal, and Citlali Elizabeth Ramirez-Neal.
Email Me