Santiago, Olga E. Gonzalez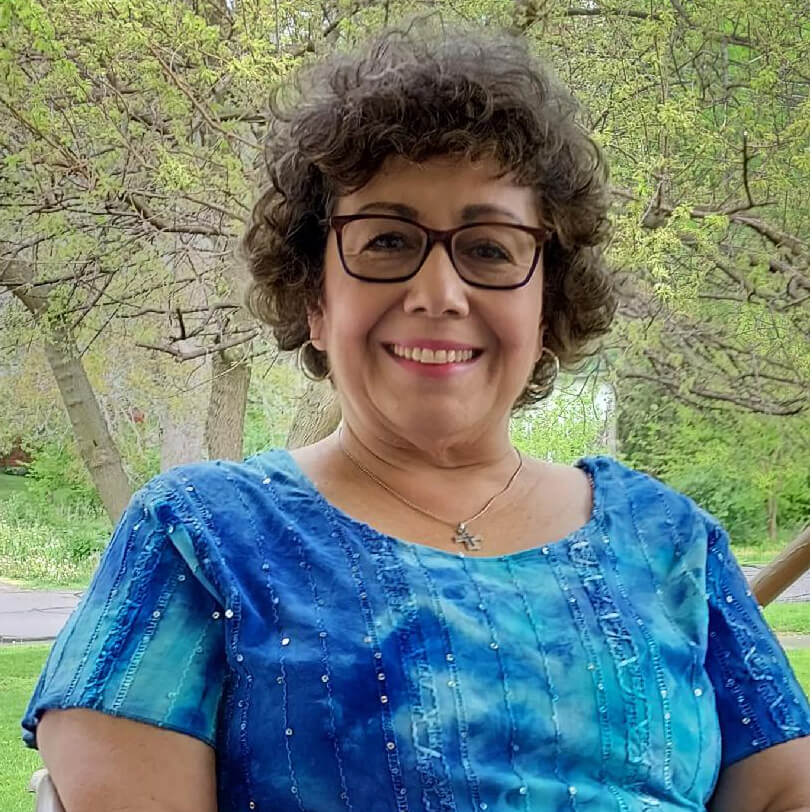 Serving At: H/L Ministries, Lehman Memorial UMC, Hatboro, Pennsylvania
Home Country: United States
WAYS TO REACH ME:
This missionary has completed service. The Advance number will remain active until January 31, 2024.
Olga E. Gonzalez Santiago is a missionary with the General Board of Global Ministries of The United Methodist Church, serving as congregational development/conference coordinator for H/L Ministries at Lehman Memorial United Methodist Church, Hatboro, Pennsylvania.
Olga is a provisional elder, commissioned in 2021. She will be ordained in 2023. She most recently served the Lyndonville UMC in New York. The church is related to the Upper New York Annual Conference.
She earned the following academic degrees: Bachelor of Arts in secretarial sciences, Interamerican University of Puerto Rico – Bayamon Campus; Master of Social Work, with focus on children and youth, University of Puerto Rico – Rio Piedras Campus; and Master of Divinity in theology, Northeastern Seminary, Rochester, New York. She has been a Church and Community Worker, a planter pastor, an associate pastor and a senior pastor.
"My husband, Andres A. Gonzalez, and I have been in mission since 1999 when we had our first short-term mission trip to Bogota, Colombia," Olga said.
Olga started her faith journey as a child. "My grandmother and aunt," she recalled, "took me to Sunday school. I learned to love the Lord through their testimony of love and faith to God. I grew up surrounded by family members who served God. One uncle was an ordained elder of the Methodist Church in Puerto Rico; another has been a missionary for more than 50 years and still serves as a pastor in Costa Rica."
Although Olga received Jesus Christ as Savior when she was 13, she later stopped going to church. At age 28, she had what she calls an 'Aldersgate experience.' I felt I was saved, free from the bondage of sin. Since then, I committed to serve Jesus Christ.
"After 29 years serving the Lord," she added, "I can say that is the best life we can ever live. I know the difference between the 'before' and 'after.' Before a personal encounter with Jesus and after [is] like the hymn, 'I have decided to follow Jesus, no turning back, no turning back.'" In 1998, Olga experienced her call to mission during a COMIBAM International conference.
"The Lord touched my heart in a very powerful way," she said. The following year, she participated in a mission journey to Bogota. Her group of 11 served at a home for girls at risk of abandonment. She and her husband lived there from 2003 to 2004 and went back in 2005-06.
"After that," Olga said," our mission work stopped for a while until we came on the Board of Global Ministries (2012-16)."
She continued, "Now that God gave me the opportunity to study and to serve in the pastoral ministry, I consider myself a missional pastor. I am grateful to God for calling us to serve him." Olga is assigned to H/L Ministries, along the boundaries of the East District, in Hatboro, Pennsylvania, a suburb north of Philadelphia. The primary location is at Casa del Pueblo (House of the People) at Lehman Memorial UMC. Launched in 2008, Casa del Pueblo reaches out to the surrounding Latino community, mainly individuals and families from Central America and Mexico. The population recently grew from 15,000 to about 18,000. Congregational development initiatives include worship services every Sunday at Lehman Memorial UMC and St. Paul´s UMC. Social services include collaboration with the school system and community-development organizations. Another critical area of work is a partnership with Amigos Community Center.