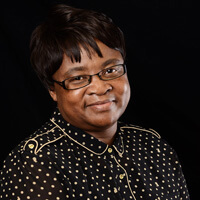 Serving At: United Methodist Women, Inc
Home Country: Zimbabwe, Africa
WAYS TO REACH ME:
Grace Musuka is a regional missionary of The United Methodist Church serving as coordinator of women's work in Central Africa. Regional missionaries are selected and supported by United Methodist Women and placed in collaboration with the church's General Board of Global Ministries.
Grace engages in leadership training for women in Cameroon, the Democratic Republic of Congo, Malawi, and Zimbabwe, where she is based in the city of Harare. The program's objective is to empower women as peace builders, healers, and economic developers in their communities, and as leaders in their churches. Many of the areas served by regional missionaries are recovering from the trauma and devastation of warfare. This work also promotes ecumenical collaboration.
Born in Mutoko, Zimbabwe, Grace is a member of the Chisipiti United Methodist Church in Harare. She holds a certificate from Nyadire Teacher's College in Mutoko and a Bachelor of Arts degree in home economics and biology from Drury University, Springfield, Missouri. She began her professional career as a primary school teacher, and has worked for many years as a lecturer through the Zimbabwean ministry of higher education. She joined the staff of the United Methodist Church in Zimbabwe as women's work coordinator in 1998.
She is one of six sisters born into a family with deep United Methodist roots in Zimbabwe. Her father was a United Methodist pastor and evangelist, although she was raised primarily by her mother, who worked for more than 20 years in clinics at mission stations. It was an environment of prayer and strong faith. Grace and her sisters helped with the growing the family's food, her mother leading the way into the fields in early morning. "We worked together in the field and after an hour or so we would go home for breakfast and get ready for school. Our mother taught us by example."
One of her dreams was realized when she was able to study in Missouri; a door opened through United Methodist connections.
Grace says that her faith journey has been shaped by "family prayers, quiet times, reciting and memorizing Bible verses and reading the Bible, participating in community work, singing in the church choir, and teaching Sunday school." She believes that "through Christ all things are possible."
She and her husband, Peter Gonda Musuka, have two adult children, Tafadzwa Issac and Munyaradzi, and they continue the strong emphasis on family worship and prayer.
Grace is committed to helping people grow through their experience in Christ. She says: "It is good reason to praise the Lord when people find their sorrow turned to joy, illiteracy turned to literacy, insufficiency turned to sufficiency, and hopelessness turned to hope in a Christian environment."