Soard, Elizabeth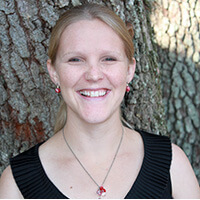 Serving At: Mara Region of Tanzania
Home Country: United States of America, North America
WAYS TO REACH ME:
This missionary has completed service. The Advance number will remain active until December 31, 2020.
Elizabeth Soard is a United Methodist missionary with the General Board of Global Ministries assigned along with her husband, Eric Soard, as a church planter and discipleship trainer in the Mara Region of Tanzania.
The United Methodist Church in Tanzania has expanded rapidly since it was launched by the North Katanga Annual Conference in 1989 in the Democratic Republic of Congo (DRC), with assistance from Global Ministries. Volunteers in mission have helped to extend the church into the Mara Region in northern Tanzania, bordering Kenya, but the area has few trained, ordained pastors. Elizabeth and Eric will initially concentrate on the Tarime area. The couple is familiar with Tarime since they spent two years there as volunteers working with Angel House Orphanage and Angel Secondary School.
Elizabeth was born in Colorado, attended high school in Arkansas, and received a Bachelor of Arts degree in philosophy and religious studies from Lambuth University in Jackson, Tennessee. She worked as a youth intern at Lambuth Memorial United Methodist Church for a year while in college, and during that time also worked in the food industry. She also went on a mission trip to Sierra Leone while in college.
Her father, the Rev. William V. Buchanan, Jr., is a clergy member of the Arkansas Annual Conference. Elizabeth is enrolled in a Master's degree program at Asbury Theological Seminary, Wilmore, Kentucky. Her church membership is in Salem United Methodist Church, Conway, Arkansas.
While always part of the church, Elizabeth says that the true development of her faith began during a two-year period leading up to her mother's death from cancer when Elizabeth was 12 years old. "I longed for a more intimate relationship with God," she says. She discovered that the pain and sorrow she felt was not all that existed, and she came to know she was called to a "lifetime vocation of doing something to show the love of Christ to those around the world."She and Eric volunteered in 2010 for mission service in Tanzania, working at the orphanage and school in Tarime. Angel Orphanage is an Advance mission project of Global Ministries. Elizabeth feels called "to the people of Africa, to help develop programs for women and children, to be an example that women can be strong and respected as equals to men."
Email Me