Cotto, Lilian (Luky)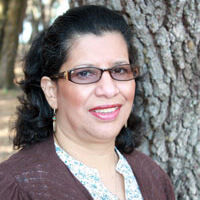 Serving At: Latino Ministry of Hatboro, PA
Home Country: Guatemala, Latin America and the Caribbean
WAYS TO REACH ME:
The Rev. Lilian (Luky) Cotto is a missionary with the General Board of Global Ministries of The United Methodist Church assigned through the National Plan for Hispanic/Latino Ministries to new church development in the Eastern Pennsylvania Annual Conference.
She is specifically appointed to the Latino Ministry of Hatboro, which is linked to the Lehman Memorial United Methodist Church in a Philadelphia suburb with a growing Hispanic/Latino population. Her work reached out into the surrounding area, which has as many as 10,000 persons of Latino background. The work includes a worshiping congregation, Sunday school, summer activities for children, faith communities in several homes, visitation and evangelism, and ESL classes.
Luky was born in Guatemala City, Guatemala, has lived in the United States for many years, and is a US citizen married to the Rev. Dr. Irving Cotto. She is a licensed local pastor in the Eastern Pennsylvania Annual Conference, and from 2000 to 2003 was a missionary through Global Ministries' 10-10-l0 plan in the Greater New Jersey Annual Conference, working with migrants in Camden. She also served as an associate pastor while in New Jersey, and became affiliated with Lehman Church in 2008.
She earned a bilingual secretary diploma from the American-Guatemalan Institute and a Bachelor's degree from Phoenix University, Philadelphia, in 2007. Luky is currently studying toward a Master of Theology degree through an extension program of the Latin American Biblical University in San Jose, Costa Rica, a school with close links to The United Methodist Church.
Born and raised in a Roman Catholic family, Luky and her family joined a Baptist church in Guatemala in her late teen years. She came to Methodism while visiting the US as a young adult. She stayed in the US as a student, and in 1978 met and, a year later, married her husband, who was a pastor in Pennsylvania.
"The Lord has been very faithful to me," Luky says. "God has blessed all the ministries given to me to develop…Now, I am being called to be a missionary, again. I had always dreamed of being a missionary ever since I became a Christian, but the Lord really has a sense of humor. I was a missionary, then a local pastor, and now a missionary a second time. I listen to God's voice and respond, 'here I am Lord, use me as you will.'"
Luky and her husband have three adult sons, Julio Irving Cotto, Andres G. Cotto, and Alejandro O. Cotto.
Email Me