Chikomb, Fresie
Chikomb, Fresie
Country:
Democratic Republic of Congo (DRC)
DONATE NOW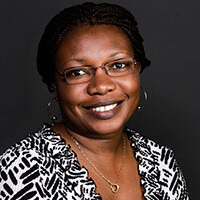 Serving At: Southern Congo Wings of the Morning
Home Country: Democratic Republic of Congo (DRC)
WAYS TO REACH ME:
This missionary has completed service. The Advance number will remain active until December 31, 2020.
Fresie Chikomb is a missionary with the General Board of Global Ministries of The United Methodist Church serving as safety and accountability manager of the Southern Congo Wings of the Morning Aviation Ministry. Commissioned in the fall of 2011, she also assists with management at the Jamaa Letu Boys' Orphanage in Lubumbashi, Democratic Republic of Congo (DRC).
Southern Congo Wings of the Morning is the aviation ministry of the Southern Congo/Zambia Episcopal Area. It provides transportation for hospitals, educators, mission teams, church leaders, and other mission needs in a vast area with limited ground transportation.
Fresie, whose pilot/mechanic husband, Rukang Chikomb, is also a missionary, has a broad range of responsibilities with the aviation ministry, including training in flight safety, financial accountability, freight management, patient support, and the welfare of ministry employees. She provides weather reports, maintains records of flight requests, helps with patients and medical supplies, and assists with language translation. Fresie speaks fluent English, French, Swahili, and two Congolese dialects.
Born in Kolwezi in the DRC, Fresie is a member of the Wesley Memorial United Methodist Church, Johnson City, Tennessee, in the Holston Annual Conference, which she joined when she and Rukang lived in that area while he was in pilot's school. She received a diploma from Safari United Methodist Institute of Elementary Teachings in Lubumbashi, DRC, and was certified as a clinical medical assistant following study at the Adult Education Center in Johnson City in 2003. She was a third-grade teacher in Congo before she and Rukang were in the US. While in Johnson City, she was a nursery school attendant and preschool aid at Wesley Church.
Raised in a devout Christian home, Fresie was strongly influenced by the example of an uncle who became a father figure for her when her own dad died at a young age. She has a strong belief in the power of prayer. "When we pray we make a difference in our daily lives," she says. She feels God has for years been leading her to mission service: "God has used me to bring hope and share the gospel as I witness his miracle in my life. As I pass on the blessing to others, it makes me believe that God trusted me in the first place for God's service in mission."
The Jamaa Letu Orphanages—one for boys and one for girls—are sponsored by The United Methodist Church in the South Congo/Zambia, and form an Advance project of the denomination.
Fresie and Rukang have three children, Andre, born in 2000; Sally, born in 2001; and Selena, born in 2007.
Email Me