Pewo, Donna Chaat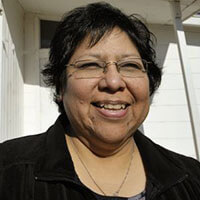 Serving At: Clinton and El Reno Church and Community Ministry of the Oklahoma Indian Missionary Conference (OIMC)
Home Country: United States of America, North America
WAYS TO REACH ME:
This missionary has completed service. The Advance number will remain active until December 31, 2020.
Donna Chaat Pewo is missionary with the General Board of Global Ministries of The United Methodist Church, serving as a Church and Community Worker at the Clinton and El Reno Church and Community Ministry of the Oklahoma Indian Missionary Conference (OIMC).
The Clinton/El Reno ministry, a priority of the OIMC, primarily serves children of the Cheyenne-Arapaho Tribes in a rural area west of Oklahoma City. It includes worship, tutoring, and recreation. The ministry was launched when a former lay missioner saw the call for a church to respond to the needs of area children, many of them poor, surrounded by substance abuse, and having problems in school. It began with a very small group and had increased to 35 in 2011.
The ministry strives to win the trust of the Cheyenne and Arapaho, who have a skeptical view of Methodists. The Cheyenne and Arapaho remember that some 180 of their people, including many children, were massacred at Sand Creek, Colorado in 1864 by a territorial militia led by a Methodist preacher, an action for which the contemporary church has apologized. The United Methodist Church also contributed to a Sand Creek memorial.
Donna Pewo is a licensed local pastor of the OIMC. She is a native of Lawton and her home church is the Billy Hooton Memorial United Methodist Church in Oklahoma City. Donna had been leading a ministry in El Reno since 2005 before the opportunity in Clinton arose.
"God has led me through many storms in my life," Donna says. "I have learned to truth him and to be obedient to him for all he has done for me. I have faith in knowing that God is leading me in this new chapter of my life. As I on this journey, I hope to bring our Indian people the hope that they can have new life in Christ."
Donna Pewo is the mother of two adult children. She has five grandchildren. She is a member of Comanche Tribe of Oklahoma.
Email Me