Vazquez, Jaime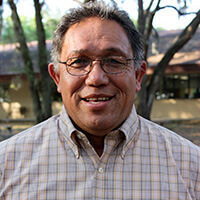 Serving At: Desert Southwest Annual Conference, based in Phoenix, Arizona
Home Country: Mexico, Latin America and the Caribbean
WAYS TO REACH ME:
The Rev. Jaime Vázquez is a missionary with the General Board of Global Ministries of The United Methodist Church, assigned through the National Plan for Hispanic and Latino Ministries to the Desert Southwest Annual Conference, based in Phoenix, Arizona.
The Desert Southwest Conference has a strong commitment to minister within the Hispanic/Latino community, which composes 30 percent of the population of Arizona. Desert Southwest is a priority conference of the National Plan for Hispanic/Latino Ministries.
Rev. Vazquez's work is heavily concentrated on new congregational development in Maricopa County, which includes Phoenix. He also assists the conference leadership in understanding Hispanic/Latino social and economic realities. His work is often complicated by immigration issues and anti-immigrant attitudes.
Born in Durango, Mexico, Vázquez was pastor, district superintendent, and bishop in the Methodist Church of Mexico (Methodist episcopal service in Mexico is an appointment rather than lifetime position). He served as bishop of the Northwest Annual Conference from 2002 to 2010. As of 2012, he has been in ministry for 30 years.
As he neared the end of his appointment as bishop, Vázquez and his wife wondered and prayed about what would lie ahead. He accepted an invitation to serve in Desert Southwest Annual Conference through Global Ministries.
"God has shown us the great necessity to preach the gospel in Spanish among immigrants here in Arizona," he says. "They have left their land, families, and roots to venture in search of a better life. Every day I confirm the purpose for which God has brought us to this place: To announce the good news and deliver a word of hope."
Jaime says that his family "knew the gospel in the Methodist Church" when he was a boy in Baja, California. "When I became an adolescent I left the church, but at the age of 18 I had an automobile accident that led me to an encounter with Jesus Christ." He attended secondary and college preparatory schools in Mexicali, and on the verge of entering university, he felt a strong desire to preach the Word of God and enrolled in John Wesley Seminary in Monterrey. Jaime graduated from Wesley Seminary in 1982. His pastoral work began in 1978.
He and his wife, Silvia Uranga, are the parents of three children.
Email Me