Shaw, Adam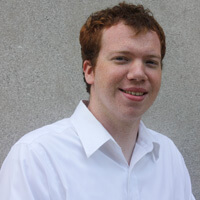 Serving At: Justice and Peace Advocate at the Asia Pacific Regional Office
Home Country: United States of America, North America
WAYS TO REACH ME:
Adam Shaw is a missionary with the General Board of Global Ministries of The United Methodist Church serving as the International Linkages Coordinator for Korea at the Asia Pacific Regional Office, based in Seoul, South Korea. He was a former Mission Advocate and Mission Intern having served in New York City, the Philippines and the California-Pacific Annual Conference (Cal-Pac). He came to his present work in 2019.
Before serving in his current position, Adam was a Justice and Peace Advocate for the Asia Pacific Regional Office. Prior to that, Adam served as the International Linkages Coordinator with the Save Our Schools project. Adam played key role in telling the story of the rural Filipino communities that have built and sustained local schools by helping to build and strengthen an international support network for those schools.
Adam was initially commissioned in August 2011 as a Mission Intern with Initiatives for Peace in Mindanao, a network of grassroots organizations promoting peace with justice in a region of the Philippines with a long history of clashes between government and workers' rights movements. In 2013 Adam was assigned in Los Angeles with the Cal-Pac Task Force on the Philippines, which relates to the annual conference's work for peace and justice and its Board of Church and Society.
In 2014 Adam was commissioned as a Mission Advocate for Young Adult Mission Service, serving as a link between the mission agency and annual conferences, districts, and congregations to promote mission service as a vocational choice for young adults.
Adam is from the East Ohio Annual Conference. He is the son of the Rev. Thomas and Susan Shaw, who were United Methodist missionaries, first in Tunisia and then in Germany from 1994 through 2003.
Adam says of his faith journey: "I grew up in the church; my parents were both missionaries, so I tagged along every Sunday to the church that my dad was working with at the time. My faith didn't get its own feet until I was in middle school and was baptized. My faith grew slowly, stagnated even, until my junior year in college when I rediscovered the essence of Christianity and faith."
His sense of mission includes a commitment to genuine peace based on justice. He has a keen awareness of being called "to trust, fear, worship, and delight in God. I am called to be in solidarity with all of God's creation."
Email Me