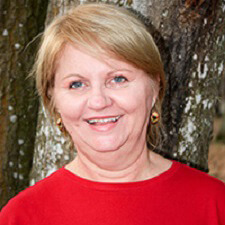 Serving At: Theological Community of Mexico
Home Country: Brazil, Latin America and the Caribbean
WAYS TO REACH ME:
The Rev. Dr. Genilma Boehler is a missionary with the General Board of Global Ministries of The United Methodist Church, assigned Faculty and Theological Researcher with the Theological Community of Mexico – Mexico.
Previously, Dr. Boehler taught in the School of Theological Sciences, offering courses on the main campus in San Jose, Costa Rica and also taking part in extension classes in other parts of the region. She also served in the area of pastoral and lay education.
A native of Brazil, Dr. Boehler previously taught, first at Izabela Hendrix Methodist University in Belo Horizonte, Brazil, and also at the Methodist University Center in Porto Alegre. She holds a master's degree in religious sciences from the Methodist University in São Paulo, and a doctoral degree in theology from the Senior School of Theology (Escola Superior de Teologia) of the Evangelical Lutheran Church in Brazil in São Leopoldo. Her home church is the Izabela Hendrix Methodist Church in Belo Horizonte.
Dr. Boehler is an ordained elder in the Methodist Church of Brazil and has worked with indigenous people, street people in a large urban area, and also in Christian education and collegiate ministry. She has taught anthropology, philosophy, religious culture, and theology, and she has conducted specific projects dealing with gender issues and human rights.
"I have lived in great poverty and am part of a migrant family," she says. "As years passed, I learned that God has a special love for the poor and suffering of this world. God feels a special love for the marginalized because God through Jesus has known our pain, our wishes, and our hopes. This is why I believe in God's love." Her call to ministry came at age 17.
"When a person is called to missional ministry," she says, "her entire life is subject to an encounter with the 'other,' accepting that our world is diverse, multicultural, pluralistic, and multireligious. On the borders, in the chaos of the world, is where God is manifest with marvelous grace. I have worked in many cities and states in Brazil as a Methodist pastor. I have crossed the borders of Latin America….Today, I teach students from more than 10 countries."
Genilma is the mother of two sons.
Genilma Boehler is available for Covenant Relationships.