De Arco, Soraya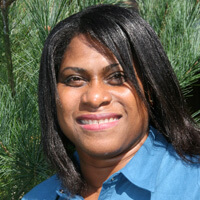 Serving At: Esperanza Viva (Living Hope) Community Center
Home Country: Colombia, Latin America and the Caribbean
WAYS TO REACH ME:
This missionary has completed service. The Advance number will remain active until December 31, 2020.
Soraya De Arco is a missionary of the General Board of Global Ministries commissioned as a Church and Community Worker in 2009, assigned to Esperanza Viva (Living Hope) Community Center in Mason, Ohio, which is part of the Hispanic/Latino ministry of the West Ohio Annual Conference.
She grew up in Cali, Colombia, and as a young woman began attending a Protestant church with her mother. In 1992, she married a Methodist pastor, the Rev. Edinson de Arco, and helped to start a Methodist congregation in Cali. "I had my first ministerial experience in that congregation," she recalls. "By teaching biblical principles, and through the power of the Holy Spirit, I was able to witness a change in the lives of women and children. That was where I began my ministerial journey, when I accepted the challenge of working with young people afflicted by problems such as drug addiction, violence, and abuse."
Soraya received two law degrees in Colombia and entered into a family law practice. In 2000, she and her husband became missionaries with the Methodist Church in Panama, and two years later transferred to Hispanic/Latino ministry in South Carolina. They moved to Ohio in 2005.
The community center at Esperanza Viva is linked to a congregation of the same name, pastored by Rev. De Arco, in a multi-ethnic faith community. Its local partner is the Mason United Methodist Church. One objective is the renewal of an Hispanic faith community in West Chester, Mason, and Hamilton.
Of her decision to become a Church and Community Worker, Soraya says: "I feel the fervent desire to serve the Lord, which is why I decided to apply to become a missionary within The United Methodist Church. I see a great need in our communities, especially in the Hispanic community.… Sometimes people begin to die in a world of fear, anxiety, and hopelessness. As for me, I have decided to die serving the God of power and not dying in the world's fears."
Soraya and her husband are the parents of three children: Nora, born in 1993; Andres, 1997; and EdySoraya, 1998.
Email Me