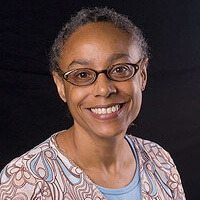 Serving At: Director of the Department of General Education and Ministry of the United Methodist Church in Liberia
Home Country: United States
WAYS TO REACH ME:
Helen Roberts-Evans is a missionary of the General Board of Global Ministries of The United Methodist Church, serving as director of the Department of General Education and Ministry of the United Methodist Church in Liberia. She was commissioned in October 2009, having initially gone to Liberia as a mission volunteer in July 2008. Helen was born in Liberia and her return as a missionary was a lifelong dream.
Helen's work includes meeting needs in such areas as teacher training, scholarships, resources, new school construction, and school building renovation and repair.
"My father taught at the University of Liberia from 1956 to 1958," Helen says. "During those two years, he traveled throughout the country filming and taking hundreds of photographs. I was only one year old when we came to Chicago, but we often watched my father's slides and movies as my parents told us stories about the history and politics of Liberia. I wanted to return and experience life there for myself."
As a child, she also experienced the joy of interacting with persons of many backgrounds and religions, through community and university contracts in Chicago's Hyde Park neighborhood. In high school, she and a twin sister became involved with a student Christian organization, but her firm trust in God would come during a difficult marriage and the need to raise her four sons.
"I am thankful," Helen says, "that my faith in God carried me through the raising of the sons. Now I have the joy of working with hundreds of Liberian children at church and school. I want to share the love of Christ with each child because I know that His love brings peace and gives strength to overcome life's challenges."
After attending high school in Evanston, Illinois, she studied in Bogotá, Colombia, and received a degree in special education from Boston University. Helen worked from 1998 through 2007 as executive director of the Child Care Center of Evanston. She was active in the Sherman United Methodist Church, serving as a Sunday school teacher and member of United Methodist Women.
Helen is a member of Sherman United Methodist Church in Evanston, Illinois.
Of Liberia, Helen says: "I immediately felt at home. I saw people and met people from my dreams…At my home church in Evanston, I heard we are part of a connectional church, but I did not fully understand what they meant until I came to Liberia. I am meeting people from all over the world who are my brothers and sisters in Christ, and learning about needs of people all over the world. I am a member of the connectional church and the body of Christ."