Tshala, Betty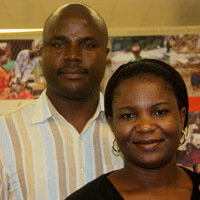 Serving At: Southern Congo Episcopal Area as Health Office/Board Coordinator
Home Country: DRCongo, Africa
WAYS TO REACH ME:
Betty Tshala, missionary with the Board of Global Ministries of The United Methodist Church, serves as Health Office/Board Coordinator in Zambia, Africa.
Betty was born in Kolwezi, Democratic Republic of Congo and attended the Institut Technique Social, where she studied humanities and social sciences and received her diploma in 1996. She continued her studies at the Institut Superieure des Techniques Medicales and earned her degree in Nursing and Hospitality. Her post-graduate work was in Nursing Administration at the Institut Superieure des Techniques Medicales. Betty worked at the General Hospital in Kolwezi, Zambia and volunteered at SNCC Hospital for the Railway in Lubumbashi, DRC.
During her years of schooling, Betty attended social classes that shaped her life "to be a servant" and feels those experiences are followed closely by her favorite scripture, "faith without work is nothing. I have been involved to serve the Lord Jesus Christ as my savior. In doing so I have come to follow social principles of serving people."
Betty feels people are dying because of the lack of knowledge and that her skills in the medical field and social sciences are tools she can use, with the help of God, to improve the standard of living in the communities she is called to serve. "People's welfare has been at the center of my heart", and Betty sees her call to missionary service is to nurture people physically and spiritually.
Betty Tshala was married to Global Ministries missionary, Tshala Mwengo, who died in an accident in 2014 while serving in Zambia. She is the mother of two sons, Tshala Lans and Tshala Shone. They are members at the Living Word United Methodist Church in Kitwe, Zambia in the Southern Katanga Conference.
Email Me