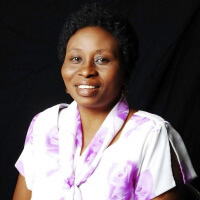 Serving At: Susannah Wesley Education and Healthcare Center
Home Country: DRCongo, Africa
WAYS TO REACH ME:
Mrs. Ngoy Mulanga Kalangwa is a United Methodist missionary with the General Board of Global Ministries serving in women's ministry of education and health in Morogoro, Tanzania. She is coordinator of Methodist schools and director of the Susannah Wesley Education and Healthcare Center.
The Methodist presence in Tanzania is relatively new and exists in large part because of mission outreach from the North Katanga Conference in the Democratic Republic of Congo (DRC). Ngoy brings special skills in music and singing and a warm personality to her ministry that focuses on improving the skills of women, youth, and children. "All I learned in being a pastor's wife and serving congregations and communities, as well as nurturing our family, equipped me well in helping others–in sewing, cooking, caring for babies, childcare, family relations, and managing pregnancies as a midwife." She has assisted women during childbirth both in refugee camps and other places.
Women at the center are taught sewing and other skills to improve their standard of living, in combination with Christian education, and health and nutrition instruction. Education about HIV/AIDS is also included. Nutritional standards have been improved by the gift of a grinding mill for grain from the Women's Division.
Born in Mwanza Village, DRC, Ngoy is the second of eight children. While studying at the teacher's college in DRC, she met her future husband, Rev. Umba Kalangwa, also a missionary, an ordained elder of the United Methodist Church in the North Katanga Annual Conference, DRC.
Ngoy and Rev. Kalangwa were married in 1980 after her graduation from college, and they are the parents of four daughters: Umba Ngoy Doris, Ilunga Ngoy Nadine, Banza Wa Umba Lorene, Ngoy Nkumwimba Karin, and two sons: Umba Ilunga, and Umba Manara.
Mrs. Kalangwa serves in tandem with her husband in a wide range of ministries in the Morogoro area. The Kalangwa family has been in Tanzania since 1992, when then Bishop Ngoy Kimba wa Kadilo assigned Rev. Kalangwa to an evangelistic ministry.