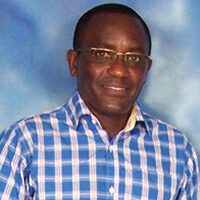 Serving At: East Angola Annual Conference
Home Country: Kenya, Africa
WAYS TO REACH ME:
Kenneth Koome Nkando is a missionary of the General Board of Global Ministries of The United Methodist Church assigned as the mission financial officer in the East Angola Annual Conference in Africa.
As financial officer, he is responsible for the delivery of mission funds to The United Methodist Church and its projects in East Angola, the keeping of accurate records, and providing support services to visiting Volunteer-In-Mission teams, church partners, and conference mission agencies. Angola experienced years of prolonged civil war, and only since 2002 has the church been able to engage in the significant rebuilding of ministries and facilities. The work includes the restoration of the Quéssua Mission Center, a theological education program, and care for orphans and vulnerable children.
Nkando, a native of Kenya, has worked in mission finance in Africa since 2006. From 1997 to 2006 he was a funds accountant with the Methodist Church of Kenya, a mission partner of Global Ministries.
He received a certificate in finance and accounting from Mombasa Polytechnic University College after high school and earned a Bachelor of Business Administration from Kenya Methodist University In Meru in 2006. His home church is Charles New Methodist Church in Nairobi.
Nkando says that his journal of faith began in his home and in Sunday school. His parents were "committed to the work of God; when growing up, they taught us the Bible and encouraged us not to miss the church services." His call to mission emerged from his church work. "During vacations while in high school, I used to volunteer to help my local pastor with any work in his house and office…I was always surrounded by clergy and laity, who were my role models."
Out of school, he joined the staff of the Methodist Church in Kenya, where he encountered missionaries. "I was very touched by missionaries who left their countries to come to Kenya and serve under very difficult circumstances," he recalls. "I started praying to God to grant me a chance to also go and reach out to others in a foreign land. In 2006, my prayers were answered." Nkando first served in Nigeria and then was a regional auditor for Global Ministries before being assigned to Angola.
Nkando is married to Faith Makena Koome Nkando and the couple has two young children, Nelinda Kendi Koome and Grace Kathure Koome.