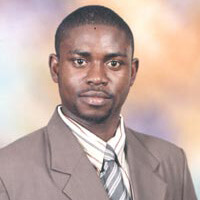 Serving At: Liberia Annnual Conference, The United Methodist Church
Home Country: Liberia, Africa
WAYS TO REACH ME:
David Guinkpa is a missionary with the General Board of Global Ministries of The United Methodist Church serving as Interim Treasurer Liberia Annual Conference/ Interim Financial Officer in Liberia & Nigeria.
Mission finance auditors work with church leaders, mission partners and institutions, and Global Ministries personnel in ensuring that funds are distributed and utilized in appropriate ways. Commissioned as a missionary in 2007, Mr. Guinkpa formerly worked in mission finance in Uganda. His current region includes the Democratic Republic of Congo, Angola, Tanzania, and Zambia.
Born in Monrovia, Liberia, David attended primary school there until 9th grade, when civil war forced his family to flee to Côte d'Ivoire. His education was completed under very difficult circumstances. He was able to attend and graduate from the Methodist University in Ghana, while living in a refugee camp. His major was banking and finance. It was during that time that David joined and became a leader in the Buduburam United Methodist Church.
Joining the church was a turning point in David's life. He realized that God was preparing him for special service. His exile from Liberia, which brought him and his family hardship and suffering, gave him a particular perspective on life, instilling in him a passion to rise above the difficult circumstances.
"As a Christian, my responsibility is to serve God, the church, and humanity," he says. "I am from a loving family that was very supportive of my work. I believe that 'God's time is the best.' We are all called to be servants and custodians of the Word of God."