Ntambo, Gaston Nkulu
Country:
Democratic Republic of Congo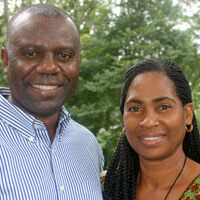 Serving At: Wings of the Morning Aviation Ministry
Home Country: Democratic Republic of Congo
WAYS TO REACH ME:
Gaston Nkulu Ntambo is a missionary with the Board of Global Ministries of The United Methodist Church assigned to the Democratic Republic of Congo (DRC). Based in Luena, Gaston serves as a pilot and mechanic with the Wings of the Morning Aviation Ministry in the North Katanga Conference.
The aviation ministry provides transportation in hard-to-reach areas of Africa, especially in emergency situations. Reflecting on his work, Gaston says, "I believe God is using me as a tool to reach out and save lives." He recalls that he once flew unknowingly into a war zone in an attempt to save lives. "As a miracle, the highest officer in that village on that day happened to also be my uncle," he reports. "Out of nowhere, he suddenly introduced himself to me for the first time."
A native of Kamina, DRC, Gaston earned associate degrees in accounting and piloting from Davis College in Toledo, OH. He received a mechanic's certificate from the Michigan Institute of Aeronautics in Detroit, MI.
Prior to his commissioning as a GBGM missionary, Gaston worked six years as a Wings of the Morning pilot. He previously served as an assistant and secretary with the United Methodist Church in Lumbumbashi, DRC.
Gaston is married to Jeanne Kabove Ntambo, also a GBGM missionary. They have five children: Andy Nkulu, Lorree Nkulu, Gabriel Kahenga, Noah Kabove, and Eileen. Gaston's father is Bishop Ntambo Nkulu of the North Katanga Conference. Gaston is a member of a local United Methodist church in Luena.