Ntambo, Jeanne Kabove
Country:
Democratic Republic of Congo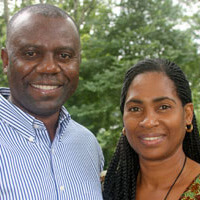 Serving At: Wings of the Morning Aviation Ministry
Home Country: Democratic Republic of Congo
WAYS TO REACH ME:
Jeanne Kabove Ntambo is a missionary with the Board of Global Ministries of The United Methodist Church assigned to the Democratic Republic of Congo (DRC). Based in Luena, Jeanne serves as radio operator for the Wings of the Morning Aviation Ministry in the North Katanga Conference.
Wings of the Morning is an aviation ministry that provides transportation to remote areas of Africa, especially in emergency situations. Jeanne follows the flight paths for planes involved in the ministry.
"I believe God has called me into his ministry by making me available at all times, even when I am busy with my children." She notes that there are no air traffic controllers or weather reporting stations in many of the areas that Wings of the Morning serves, which makes pilots all the more dependent on her services. "Through God's power, I have had an experience of saving pilots' and passengers' lives," she shares.
A native of Kalemie, DRC, Jeanne earned an associate degree in accounting from the Institut Kitumaini and an associate's degree in economics from the University of Lubumbashi, both in Lubumbashi. She received a diploma in accounting from Institut Kitokeji in Kamina. Jeanne has been with the flight ministry since 1996.
Jeanne is married to Gaston Nkulu Ntambo, a GBGM missionary who is a pilot with the flight ministry. Their five children are Andy Nkulu, Lorree Nkulu, Gabriel Kahenga, Noah Kabove, and Eileen. Jeanne's parents are Kahenga-Mwenda Ferdinard and Muzinga Habamutake Marie of Katuba, Lubumbash, where they are members of Saint Sebastien Catholic Church.