Peña-Nazario, José Roberto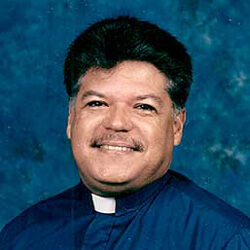 Serving At: Honduras Mission Initiative
Home Country: Puerto Rico, Latin America and the Caribbean
WAYS TO REACH ME:
The Rev. José Roberto Peña-Nazario is a missionary with the General Board of Global Ministries of The United Methodist Church assigned as Pastorate, United Methodist Mission in Honduras. He also has pastoral responsibilities at Danli Central United Methodist Church.
As a pastor, José is responsible for developing new churches, bringing new members into the Christian community, developing leadership, and assisting people in the community to improve their living conditions. His objective is to fulfill God's mission, "making disciples and teaching and putting into practice the principles and values of the reign of God."
Reflecting on his experiences, José says he senses "God's presence in the practice of spiritual disciplines such as prayer, reading the Word, and meditation." He also feels close to God, "in the community worship of His people and in the practice of the Sacraments," as well as "in service to the disadvantaged."
A native of Fajardo, Puerto Rico, he earned a Bachelor of Science degree in natural science and biology from the University of Puerto Rico in Rio Piedras, and a Master of Divinity degree from the Evangelical Seminary of Puerto Rico. A clergy member of the Methodist Church of Puerto Rico, he has served as a pastor in St. Croix in the US Virgin Islands, and in Naranjo de Comerio and Carolina, Puerto Rico. Earlier, he worked eight years as a specialist in the Social Security Administration.
His father is Felix Peña-Garcia of Culebra, Puerto Rico.
Email Me