Umembudi, Jacques Akasa
Umembudi, Jacques Akasa
Country:
Congo, (Democratic Republic)
DONATE NOW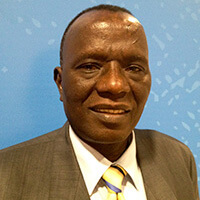 Serving At: Wings of Caring Aviation Ministry
Home Country: DRCongo, Africa
WAYS TO REACH ME:
This missionary has ended service. The Advance number will remain active until December 31, 2020.
Jacques Akasa Umembudi is a missionary with the Board of Global Ministries of The United Methodist Church assigned to the Wings of Caring Aviation Ministry in Kinshasa, Democratic Republic of Congo. As a pilot-mechanic and program director of the Wings of Caring Aviation Ministry, Jacques flies people and supplies to various missions in the region.
"When I fly missionaries, pastors and church leaders, we carry the Good News to where the Gospel is needed," Jacques explains. "When I fly doctors or medical teams, when I fly sick persons to the hospitals where their lives are saved, when I fly seminary or college professors to teach, I think I am doing God's will. In some places if we don't fly in supplies like salt, soap or matches, there is no other way such supplies will get to the population. Many of our mission stations depend on the aviation ministry for survival. Through aviation, children can get shots for immunization. It's not just a means of transportation, but it is a whole ministry – the Gospel – that is preached in different ways."
Born in Yamba-Yamba, D.R. Congo, Jacques has been a mission pilot-mechanic based in Kananga, D.R. Congo, since 1990. From 1992-97, he served as a Person in Mission through the Board's Global Mission Partners program. Before becoming a pilot, Jacques worked as an aviation-mechanic helper in Kananga from 1985-1987, and as an assistant technical director in Lodja, D.R. Congo, 1983-85. He also worked as a math teacher for a time in Wembo-Nyama, D.R. Congo, after graduating from high school in the 70s.
Jacques holds an Associate's degree in Aviation and as a Pilot from T.S.T.I./T.S.T.C. in Waco, TX, 1987-89, and his Certificate as a Pilot and Mechanic from Flight Safety International in Wichita, KS, in 1990. He also holds an engineering degree in electro-mechanic's from I.S.T.A. in Kinshasa.
Jacques is married to Poto Valentine Shutsha, who is also a GBGM missionary. They have three sons: Akasa Umembudi Mignon, Shamba Umembudi Gigi and Otoko Umembudi Dennis. Jacques father, Akasa Okitowa Alphonse, now deceased, was a pastor with the United Methodist Church. Jacques is a member of Paroisse Francophone congregation in Kananga.
Email Me