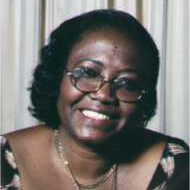 Serving At: Regional Missionary with Women, Children and Youth
Home Country: Sierra Leone, Africa
WAYS TO REACH ME:
Elmira I. Sellu is a United Methodist missionary serving as regional missionary with Women, Children and Youth. Based in Sierra Leone, she coordinates women's leadership development in the West Africa Central Conferences and the East Africa Annual Conference.
Regional missionaries with women, children and youth are selected and supported by United Methodist Women and placed in collaboration with the General Board of Global Ministries.
Mrs. Sellu conducts workshops and seminars, as she explains, on "current issues that affect the lives of women and children, such as HIV/AIDS, women and children's health, child survival and development, violence against women, the girl child in Africa, environmental issues, and peace education. I also work in the area of poverty alleviation for women through initiating and ensuring effective management and sustainability of income-generating projects. Networking and advocacy with other women's organizations are also part of what I do."
A native of Sierra Leone, Elmira and her family were forced to leave their home country during the civil unrest in 1997 and fled to neighboring Guinea. Her own experiences during that time had an impact not only on her own life but also on the women with whom she lived. She reflects, "As a refugee I was able to mobilize women refugees in Conakry, Guinea. Small-scale business enterprises were started and that changed the lives of many women in a strange land."
Elmira has been coordinator of Leadership Development for Women in the East Africa Annual Conference since 1999, based first in Nairobi, Kenya and later in Kampala, Uganda. In Nairobi, she says, "I was able to cater for refugee school children living in Nairobi who otherwise would be out of school today. Also, during the practical session of one of my workshops we were able to detect three women who were living with breast cancer without knowing it. Treatment was given on time and danger averted."
She was coordinator for United Methodist Women in Sierra Leone from 1993 to 1999. She was associate lay leader for the Sierra Leone Annual Conference from 1996 to 1998 and was lay leader of King Memorial United Methodist Church, where she continues to hold church membership, in Freetown from 1988 to 1992. From 1988 to 1992, she also served as secretary of the King Memorial United Methodist Women. She is a past vice president of the West Africa Area of the World Federation of Methodist and Uniting Church Women.
She earned a bachelor's degree in human and social studies from the University of South Africa. She laso holds a diploma in women's leadership from the Mindolo Ecumenical Foundation in Kitwe, Zambia and received certification as a "higher teacher" in 1975 from Milton Margai Teachers College in Sierra Leone.
Elmira was married to the late Abraham Kai Sellu, and has three adult children: Wuyatta, Elmira, and Abraham, Jr.