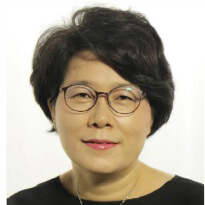 Serving At: Missionary in Residence, Atlanta
Home Country: South Korea, Asia and Pacific
WAYS TO REACH ME:
Rev. Eunha (Grace) Choi is a missionary with the Board of Global Ministries of the United Methodist Church. Currently, Grace serves as a Missionary in Residence (MIR) at the headquarters of Global Ministries in Atlanta, GA, USA.
As an active missionary, the role of MIR is to be a liaison between Global Ministries and its missionary community. The work of MIR is pastoral, listening to and caring for missionaries directing their diverse concerns to Global Ministries, and organizational, advocating for missionaries.
Before becoming MIR, Grace was a missionary in the Philippines for 18 years. At first, she worked as a youth coordinator of the Philippines Annual Conference. Later, she served at Harris Memorial College, a deaconess training center for Christian education. At Harris, she was a community health coordinator at an indigenous community and urban informal settlement area. Also, she taught music courses and led the school choir.
Grace says, "When I was a teenager, I read many missionary stories, and I wanted to be a missionary." So, she entered a nursing college to prepare herself to be a missionary. Later, however, she forgot about it and pursued a worldly success. Then suddenly, she was stricken with an illness doctor could not diagnose. Grace confesses, "Through the illness, my mind was getting humble. I began to long for God and recovered my dream to be a missionary." She continues, "Ever since I became a missionary, I have always affirmed that mission is not about sacrificing myself for God, it is to participate in God's mission trusting in the Lord who sacrificed himself for me.
A native of South Korea, Grace earned Bachelor of Science in Nursing from Yonsei University in Seoul, and Master of Divinity from the Presbyterian University and Theological Seminary in Gwangnaru, Seoul. In the Philippines, she studied voice performance at the University of Santo Tomas.
A full member of the Philippines Annual Conference, Grace is married to Jae Hyoung Choi, also a GBGM missionary. They have two sons, Soo Hoon and Ji Hoon.