Umipig-Julian, Devorah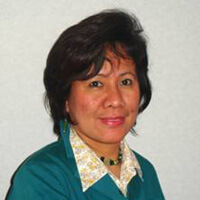 Serving At: Christian Coalition for Refugees and Migrant Workers (CCRMW)
Home Country: Philippines, Asia and Pacific
WAYS TO REACH ME:
This serves to notify you that Global Missionary will complete service on November 30, 2021. 
Devorah Umipig-Julian is a missionary with the General Board of Global Ministries of The United Methodist Church serving as a social worker for the Christian Coalition for Refugees and Migrant Workers in Tokyo, Japan.
Debbie, as she prefers to be called, has responsibilities that include: extending crisis intervention to refugee applicants and migrant families; facilitation of case work; visitation to police and immigration detention centers and hospitals; and establishing work relations with government and nongovernmental (NGO) offices, other welfare agencies, and local churches.
She is actively involved with the Ushiku Menkai Network and Forum of Refugees Japan (FRJ), a coalition of Tokyo NGOs concerned with alleged human rights violations and abused of detainees in detention centers. Members visit centers, where allegations are discussed and appropriate action recommended.
Ms. Umipig-Julian organizes and conducts home Bible studies and prayer meetings on a monthly basis. She teaches basic English conversation once a week for refugee families and children. Debbie actively serves foreign migrant workers with special needs. They engage in the life of the local church, serving in ministries with children, youth, women, and married couples, and also providing assistance with audio-visuals. Debbie is an active member of the Japan Women's Conference, an inter-denominational/international organization, and was selected as chairperson in 2011.
"Years of ministry to migrants and refugees has taught me much and given me insight into many biblical lessons," she says. "One of them is from the Old Testament that teaches us a theology of welcome. From the beginning, in the Torah, God says, 'For the Lord your God is the God of gods. Who shows no partiality and accepts no bribes. He defends…the fatherless and the widow, and loves the alien, giving him/her food and clothing. And you are to love those who are aliens, for you yourselves were aliens in Egypt.'"(Deuteronomy 10:17-19)
"I do not believe we are politically defiant by helping [migrants] while struggling without legal documents to reside in Japan. What I do know is that God's mandate is for the church to accept others as Christ has accepted us. In other words, God loves the immigrants among us, and we are called to love them as well. Our duty as a church is not to judge migrants and refugees but to love them, to become arms of Christ, not the hands of tyranny. This is our prophetic and Christian duty. This is my personal experience. The stories of faith they share make God real and our mercy right."
A native of the Philippines, Debbie was the department head of the Women's Ecumenical Center for Cooperative Education, Inc. in Quezon City, Philippines from 1994 to 2000, project coordinator of the Puno Foundation, Inc. in Quezon City from 1991 to 1994, and a social worker with the Women and Family Development program of the Kapatiran-Kaunlaran Foundation, Inc. in Sampaloc, Manila from 1989 to1991. She has Bachelor of Science degree in social work from the Philippines Christian University in Manila and a Masters degree in social work administration and supervision from the University of the Philippines, Diliman, Quezon City.
Debbie and Ronald are the parents of two sons, Matt and Josh. Debbie's husband, Ronald Julian, also serves as a United Methodist Missionary with the International Seafarers Ministry in Yokohama.
Email Me