Pascua, David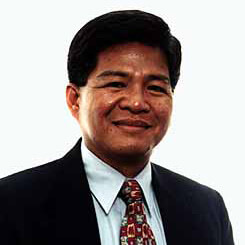 Serving At: Union Theological Seminary in Cavite, Philippines, where he is a professor and Academic Dean
Home Country: Philippines, Asia and Pacific
WAYS TO REACH ME:
This Global Missionary will complete service on August 31, 2021.
The Rev. Dr. David Pascua is a missionary with the General Board of Global Ministries of The United Methodist Church teaching Wesleyan studies, church administration, and mission and evangelism at Union Theological Seminary, located in Dasmariñas, Cavite Province in the Philippines. He also assists with seminary administration and manages the seminary's farm.
Union Seminary was founded in 1907 with the merger of former Methodist and Presbyterian schools; other denominations later affiliated with the institution. Today, Union is the major seminary for the training of Protestant clergy in the Philippines. Dr. Pascua was formerly on the faculty of Southern Philippines Methodist College, Mindanao region.
The seminary farm includes a mango orchard and coconut trees.
Dr. Pascua confesses to a "passion" for teaching Wesleyan studies so that Methodist students can become rooted in their history and tradition. "This is an important resource for understanding their religious identity, and also a source from which they draw inspiration in facing the changes of our times," he says.
"In an ecumenical seminary such as Union, the first step to unity is attaining a deep understanding of one's own history. This clarifies our values, our passions, our commitments, and our vision of the future; it prepares for dialogue with other churches and with peoples of other faiths, sexual orientations, and ideological convictions. It is important to know where we stand in a pluralistic society. It is always my conviction to affirm our faith in Christ and to teach my students to do so."
David holds a Doctor of Ministry degree from Wesley Theological Seminary in Washington, DC, a Bachelor of Divinity from Union Theological Seminary in Cavite, and a Bachelor of Arts degree from Notre Dame College in Kidapawan. He has done further study in theology at the South East Asia Graduate School of Theology, which has its headquarters in Manila.
A native of Mlang, Cotabato, the Philippines, David is married to Cristina Pascua. They are the parents of two adult children, Danna and Jacob, and also have a young granddaughter.
Email Me