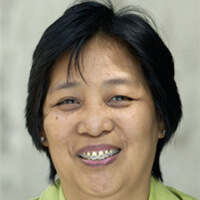 Serving At: East Asia/Pacific Region
Home Country: Philippines, Asia and Pacific
WAYS TO REACH ME:
Emma Cantor is an International Missioner with Women, Children, and Youth with the General Board of Global Ministries of The United Methodist Church, assigned to the East Asia/Pacific region to facilitate gender training and leadership development.
A native of the Cagayan Valley, Philippines, Emma earned a BA degree in Christian education from Harris Memorial College and an MA in women and religion from St. Scholastica's College/Institute. She completed further studies in feminist theology through St. Scholastica's Office of Formation and Religious Studies.
Following completion of her BA degree, Emma administered documentation for the library of the Institute of Religion and Culture in Quezon City, Philippines. She then became program coordinator of the women's desk for the National Council of Churches in the Philippines (NCCP). Most recently, she was executive secretary for the Board of Women's Work in Manila.
Growing up in a poor family with 10 brothers and sisters, Emma says she learned values of "communal living, sharing in the midst of poverty, listening, being honest, kind and sensitive to the needs of others" and the "value of perseverance to pursue an education." She adds, "The church played a deep role in my development." From her work in ecumenical organizations, she says she became aware of "social issues and struggles of different sectors of the Filipino people and the Philippine society as a whole." She also learned about the suffering of women in various settings, including victims of prostitution and other forms of trafficking.
Ms. Cantor is a member of the Church of the Risen Lord in Quezon City. She is married to Joselito Orate, and they have one daughter, Johanna.