Akale, Dr. Catherine Mudime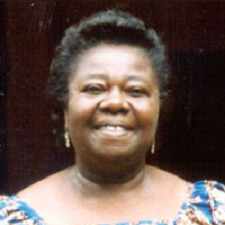 Serving At: International Ministries with Women, Children, and Youth in Cameroon
Home Country: Cameroon, Africa
WAYS TO REACH ME:
Catherine Akale is a General Board of Global Ministries Regional Missionary assigned to United Methodist Women, Inc., on International Ministries with Women, Children, and Youth. Her ministry is in Yaounde, the capital of Cameroon, where she has served since July 2001.
Catherine's area of interest and specialty is how gender issues are reflected in institutional structures and decision-making processes that are translated into policy and action: leadership development through education and training; women's participation in church and society and gender issues; prison ministry at the Yaounde Central Prisons; resource person for 2010 World Day of Prayer Liturgy; World Day of Prayer Cameroon National Committee.
In an African context of wide socio-economic and political inequalities, Catherine focuses on women's leadership roles within church structures through and analysis of a range of constraints that inhibit women's skills development and managerial efficiency and limits their capacity to exercise leadership in promoting women's empowerment economically and in decision-making. She then designs and carries out made-to-measure training to reduce these barriers. Catherine empowers United Methodist women by emphasizing self-reliance translated into skills-building and action in all needs and aspects of women's lives.
Catherine is one of 23 children from a polygamous but Christian family. According to her, they were not poorer than their immediate neighbours but on hindsight, the available resources were so very thinly spread in their large house-hold that what she remembers is the perpetual hunger that plagued them.
Catherine is the holder of a Bachelor of Education degree from the University of Sussex, a Masters Degree in Gender and Development from the Institute of Development Studies, University of Sussex, and a Ph.D. in Political Sociology from the Oxford Brookes University. She hopes to turn her thesis titled: "Gendered Politics and the Secondary Status of Female Bureaucrats in Cameroonian Governing Institutions", into book form one day, given the opportunity.
Beginning her career as a professional teacher of secondary/high school, Catherine turned to adult education during her time in Mindolo Ecumenical Foundation in Kitwe, Zambia.
Catherine is an elder and Vice President of the Christian Women Fellowship (CWF) of the Bastos Congregation in Yaounde, Cameroon.
Email Me