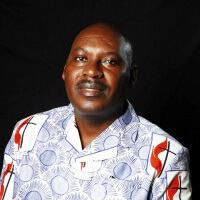 Serving At: Malawi Provisional Annual Conference in Malawi
Home Country: Burundi, Africa
WAYS TO REACH ME:
The Rev. Joel Ncahoruri is a missionary with the General Board of Global Ministries of The United Methodist Church, currently serving as a conference financial treasurer in Malawi Provisional Annual Conference.
Joel was commissioned as a missionary in 1999. He worked in mission finance in the Sierra Leone Conference (1999-2004), Liberia Conference (2004-10) and the Cameroon Mission Initiative (2010-18).
Originally from the Burundi United Methodist Annual Conference, Joel was ordained in 1983. He was treasurer of The United Methodist Church in Burundi (1980-91) and worked for the Africa Church Growth and Development program (1991-97).
Joel understands his role in mission as supportive of the gospel of Jesus Christ, assuring that funds are used in appropriate, accountable ways. He shared how his calling began in his youth.
"After the completion of my secondary school [studies] in 1978," he said, "I was assigned as an assistant administrator to the pastor of my church in Burundi. My duties included keeping the church car logbook. The car was used to assist people in the surrounding rural community to transport patients to a distant hospital under a mileage fee for upkeep.
"I was very careful in handling the income," Joel continued, "and the way I handled my small job impressed the future bishop, John Alfred Ndoricimpa, who was then an evangelist and manager of a church print shop. I was called to work at the print shop as an accounts trainee and later replaced my trainer, a missionary from the U.S. I came to realize the truth of what Jesus said: 'Because you have been trustworthy in a very small matter, take charge of ten cities.'" (Luke 19:17, ESV)
A 1978 graduate of the Mweya Theological School, a secondary institution in Gitega, Burundi, Joel earned a Bachelor of Arts degree in commerce and business administration (management and accounts) in 1998 from Daystar University in Nairobi, Kenya.
Joel is married to Milka Wairimu Muthui. They have four adult children, three sons, one daughter and six grandchildren.
Email Me