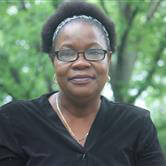 Serving At: Women's Leadership Training Center
Home Country: Sierra Leone, Africa
WAYS TO REACH ME:
Princess M. Jusu is a missionary with the Board of Global Ministries of The United Methodist Church serving in Monrovia, Liberia, as an instructor at the United Methodist Women's Leadership Training Center.
Mrs. Jusu's ministry includes teaching skills which entail tailoring, tie-dying, knitting and home economics for women and girls who, for various reasons, have dropped out of school. Princess also assists with the village health outreach program for women.
Princess and her husband Henry, a former GBGM Area Financial Executive (AFE), previously served in Jalingo, Taraba State, Nigeria. She served in association with the Nigeria Annual Conference as instructor at Zing Women's Leadership Training Center from 1999 to 2003. In July 2003 Princess joined her husband in Accra, Ghana, where they worked at Budumbura International Refugee Camp for four months. She later joined her husband in Monrovia, Liberia, where he was serving as AFE with the Liberia Annual conference.
A native of Sierra Leone, Princess received her school certificate from the United Methodist High School in Taiama, and a Diploma in Home Economics from the Young Women's Christian Association (YWCA) in Freetown, Sierra Leone. She was instructor at a women's training center in Freetown and taught in a Christian development program at Price Memorial United Methodist Church, also in Freetown.
In 1997 Princess and her family were forced to leave Sierra Leone during civil unrest, arrived in the United States and eventually became US residents. In 1997/98 she earned certificates as a nursing assistant while in Virginia. Princess earned her diploma in Interior Decoration at Stratford Career Institute in Columbus, Ohio, in 2008/09.
"My ministry in Freetown, Nigeria, Ghana and now Monrovia with the women and children as an instructor has helped me to be a full participant in missionary work. I am hopeful and prayerful that my service will be one that contributes to a more positive environment and will be productive for the women and children that I can assist while on assignment."
Princess has witnessed God moving through her efforts. "Today, most of those who dropped out of school as children and who are now housewives attended the institutes where I taught in Freetown, Sierra Leone, and Zing, Nigeria, and gained the opportunity to learn new skills, explore creative ways and develop management skills."She continues, "Most of them are now good Christians and live in safe environments where they earn their living without support of their parents and/or husbands."
Princess and Henry have two children, Janietta and David, and a granddaughter, Christiana. They all attend schools in the US.