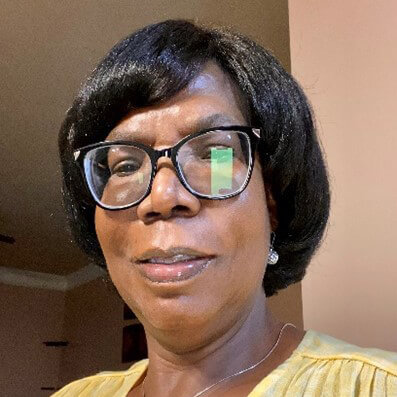 Serving At: Liberia Annual Conference/UMC
Home Country: Liberia, Africa
WAYS TO REACH ME:
The Rev. Priscilla Legay-(Jaiah) Gilayeneh is an ordained elder in the Liberia Annual Conference of The United Methodist Church. A missionary with the General Board of Global Ministries, she is the superintendent of the Ganta Mission Station. She oversees the agricultural program, coordinates training and staff development, and cultivated a network of local and international partners to grow a sustainable agriculture program for the mission station. The effort includes planting of rubber trees (18 acres) and oil palm (20 acres) and developing animal husbandry and beekeeping for honey production. These generate income to sustain the mission station operating budget. Through these enterprises, local farmers learned how to diversify to move from subsistence to profitability, as well as generating income to sustain their families.
"Besides the mission station," Priscilla said, "we have extended our program into 66 villages outside of Ganta. engaging in beekeeping, pig raising and vegetable production through a grant received from UMCOR." The program also supports Liberia Conference agricultural activities in beekeeping and poultry. The goals are to empower local farmers and strengthen overall agricultural sustainability efforts. These include creating food security and income generation.
Additional efforts include vocational education and skills training for young people and an elementary school for girls from 13 villages far from the city.
"In my former assignment as principal of the Ganta United Methodist School," Priscilla said, "I oversaw the daily operation of the school and helped to rebuild its facilities after the 2003 civil unrest in Liberia. We organized Volunteer in Mission hosting teams, building relationships and making disciples for God."
Before her assignment in Liberia, she served in Ghana, West Africa, for eight years. She worked at the Buduburam refugee camp, as well as with the Ghana Methodist Church. She was a substance abuse counselor for more than 600 children in middle school and high school in the Ghana Methodist Church School System. She conducted workshops for at-risk teens in alternative education. Eventually, the ministry was well established and led by teachers trained as counselors. At the refugee camp, she provided pastoral leadership, including emotional counseling, substance abuse/drug awareness and prevention of HIV/AIDS.
Priscilla focused on vocational training skills for youth, women and men for substantiality and empowerment. She described her work as "one of the greatest ministries of my missionary service. It has great impact on me, but it has challenges.
"The difficult part of our mission was working with the refugees," she said. "Life is a struggle, [with] high risk of substance abuse and poor sanitation, and no economic means. The people had no hope of returning to [the place] they once knew as home. We fought to rebuild a community of trust, hope, love and empowerment."
Priscilla learned much from the refugees with whom she worked. She cited "the high level of spirituality, the joyous spirit, and the strong hope and trust in God.
"At the end of every skill graduation program," she said, "you see smiles and know that they have been empowered to be in control of their lives. From no skills to a career, from no job to self-employment, and from hopelessness to being hopeful. This experience led me since 2003 to become a long-term Global Ministries missionary."
A native of Liberia, Priscilla learned to share her faith as a child, working with her mother in villages as a Sunday school teacher, youth worker and choir member. She believes that the global church can "share the gospel of Jesus Christ [and] bring freedom, justice and peace to God's children here on earth."
Priscilla holds three academic degrees: Bachelor of Arts, Gbarnga School of Theology in Liberia; Master's in social work, Clark Atlanta University; and Master of Divinity, Interdenominational Theological Center in Atlanta.
She is married to James N. Gilayeneh Sr., a circuit court retired judge. They have two adopted children and several grown children.