Groves, Sandy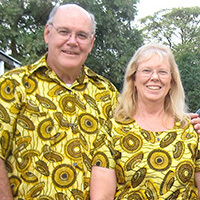 Serving At: New Life Center
Home Country: United States of America, North America
WAYS TO REACH ME:
Sandy Groves is a United Methodist missionary with the General Board of Global Ministries based in Kitwe, Zambia since August 2000. With her husband, Delbert, who is also a missionary, she serves at the New Life Center.
New Life Center offers numerous outreach and training ministries within the Provisional Annual Conference of Zambia. Sandy works particularly in the areas of community health education and evangelism, life skills training, and Personal Energy Transportation (PET) for Handicapped Persons. She teaches English as a second language, as well as remedial reading and math skills.
Sandy explains that her current assignment in the primarily English-speaking country provides the opportunity "to work on a more intimate level with the women and children." She continues, "Teaching and training women and the orphaned and vulnerable children in both health and spiritual topics, as well as reading and math skills, has been an awesome experience. It is even more exciting when they are able to take what they have learned and teach others around them!"
Sandy and Delbert previously served for eight years in the Southern Congo Annual Conference in the Democratic Republic of Congo (DRC), until political unrest necessitated their relocation to the neighboring country of Zambia.
Of her call to mission service, Sandy says, "It's amazing what God can do if we make ourselves available to be used by Him. I consider it a privilege to be the hands that He is using here in Zambia."
A native of Florida, Sandy worked in the field of medical technology since 1980, having earned an Associate of Science degree in Medical Technology from Valencia Community College in Orlando, Florida. She also has experience in bookkeeping and office management from years of being in the printing business with her husband.
Sandy and Delbert have four sons: James, Nicholas, Seth, and Nathan. They also have three daughters-in-law: Kellie, Lisa, and Amanda, and four grandchildren: Charles, William, Taylor, and Del. James lives in Nevada and the other three boys live in the Orlando, Florida area.
Sandy retains her church membership in the Florida Annual Conference.
Email Me