Groves, Delbert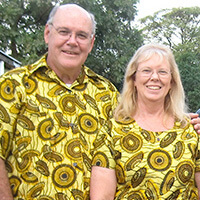 Serving At: Church Development in the Zambia Conference
Home Country: United States of America, North America
WAYS TO REACH ME:
The Rev. Delbert Groves is a United Methodist missionary with the General Board of Global Ministries based in Kitwe, Zambia. With his wife, Sandy, who is also a missionary, he serves in Church Development in the Zambia Conference. He also works with the disabled people in building and distributing Personal Energy Transportation (PET) carts for mobility to those who cannot walk. The couple also hosts volunteer-in-mission work teams.
Delbert's focus at present is on church leadership and spiritual growth training through conferences, seminars, workshops, and crusades.
Delbert and Sandy served for eight years in the Southern Congo Annual Conference in the Democratic Republic of Congo (DRC) until political unrest necessitated their relocation to the neighboring country of Zambia.
Delbert was ordained as an elder by the Zambia Provisional Conference in 2006. He is a member of the Florida Annual Conference.
Reflecting on his work in Africa, Delbert says, "Christ not only saves us from our sinful, selfish nature, but He heals the body and mind so we can discover all that He has for us to live out a new life filled with purpose and hope. I love watching God work!"
Delbert and Sandy have four adult sons: James, Nicholas, Seth, and Nathan, three daughters-in-law: Kellie, Lisa, and Amanda, as well as four grandchildren: Charles, William, Taylor, and Del.
Email Me